Our New Year Inspection Visit Diary
21/01/2022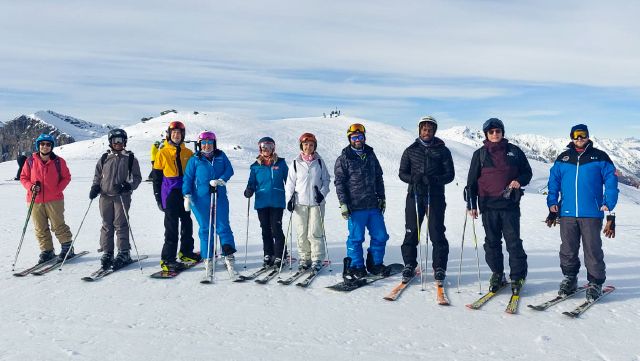 Every year, the Halsbury Ski team take a group of teachers and their friends and family on an inspection visit. This year, the group headed to Prato Nevoso/Artesina in Italy.
Ben, one of our Ski Specialists, explains what they got up to:
Tuesday 28th December
With our Covid tests done we were all off to the airport! The bulk of the group travelled from London Heathrow, with the Lutonites meeting us out in Artesina.
The last thing we expected to trip us up travelling under Covid restrictions was a lost bag, but after waiting for the next flight to bring it in, we were off to the resort.
For many, this was their first trip abroad since February 2020, so there was definitely excitement in the air!
Wednesday 29th December
Finally, the morning that we had all been waiting for for so long had arrived – the first ski day!
After a plentiful breakfast, we had collected our lift passes, got ski ready and met in the village square in front of the hotel.
Some of the children on the trip were meeting their ski instructors for lessons – the rest of us got into groups to spend themorning skiing.
The Halsbury Team led a group of skiers for the morning. We had a good ski around and enjoyed the great morning conditions.
Lunch was back at the hotel, sat on the sun terrace and there was a great choice of lunchtime menu.
The afternoon saw us heading off to the Turra, the highest part of the resort and always in perfect condition with great views across the Alps. We all had a great ski day before heading back to the hotel for a 3-course evening meal with salad, focaccia and vegetables.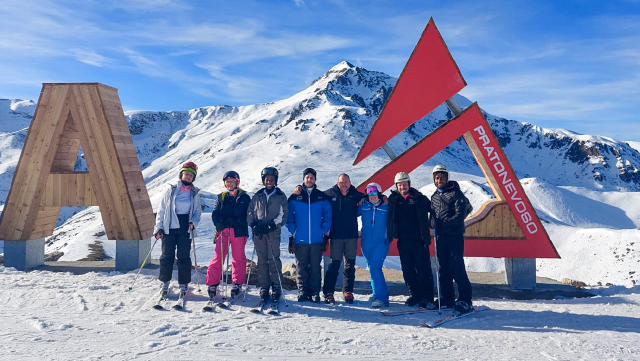 Thursday 30th December
Another perfect bluebird day!
After breakfast we met our groups and ski instructors and off we went.
The children had all settled into their lessons and were progressing really well. The adults all set off for the Turra again.
To get back to the village from the Turra, you can either ski back down a red to connect you with the link back to the village, or you can take the 2-man chairlift if you want to avoid the red. Of course, the latter means that beginners and lower intermediates can still enjoy the feeling of being on top of a mountain without having to contend with a red to get back to the village.
After lunch, we had a lovely ski with a few of the group leaders and off to Prato we went.
This was our first ski over to enjoy the numerous runs that filter back into the lovely wide bowl.
The access back to Artesina is via the new Porsche-designed gondola, which is quick and convenient.
We then enjoyed a wonderful pizza night with pizzas from the wood fired oven at the hotel. Rather than choosing a pizza each, we had a selection of pizzas of all different varieties keep coming to the table. Wow! Margherita, diavola, capricciosa, even a pineapple pizza! Although that one did cause a bit of a mixed reaction…
After dinner, we arranged a table football tournament. It was brilliant, with lots of competitive spirit and fun! We had 16 teams, seeing Halsbury staff, our customers and the children all into the semi-finals and finals – it really was a family affair!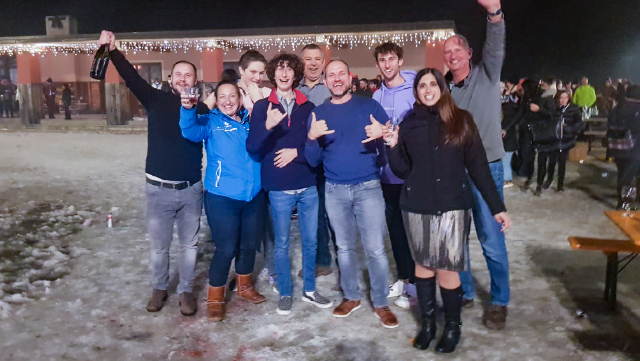 Friday 31st December
New Year's Eve and another excellent day's skiing under uninterrupted blue skies. Most people finished skiing slightly earlier today, in order to get themselves ready for a traditional 9-course Italian New Year's Eve feast. This was preceded by the ski school's annual torchlit descent – it's always a spectacle to watch expert skiers descend the mountain with flaming torches in hand!
With seconds available on each course, even the biggest of appetites was satisfied. We'll leave you to guess whether our MD ate 5 or 7 puddings during this meal…!
Dinner done and bubbly in hand, it was out into the piazza to welcome in the new year with a rousing rendition of Auld Lang Syne, much to the confusion of the onlooking locals.
It seemed like every man and his dog had bought fireworks and bangers to the piazza, so there was no shortage of entertainment 'til well past midnight.
Saturday 1st January
A few bleary eyes were present to meet for skiing this morning, but faced with another day of skiing under blue skies, this didn't dampen the spirits for too long.
Having not skied abroad for so long, people were keen to make the most of their final ski day, with one teacher and his son managing to hit every open piste in resort – some effort, considering the fact that over 100km of piste were open.
Undeterred by the amount of skiing got in that day, we had a full coach heading round to Prato Nevoso for some of the best night skiing in Italy.
With a sweeping blue and red run open and the snow park directly under the floodlights and lift back up, there's something here for everyone.
Watching the skiers and boarders in the snow provided ample entertainment on the lift back up. A late return to Artesina, followed by some late night packing and one last hot chocolate/glass of wine before bed.
Sunday 2nd January
We arrived home – and no bags were lost this time!
What did the teachers think of the trip?
It was a pleasure meeting everyone and massive thank you to the Halsbury team for putting on a great trip for us!
Thank you to the Halsbury team for organising a fabulous ski trip…great meeting you all and hope to see you on future trips!
It was great to be skiing again – thank you all at Halsbury for a great trip and all the organising. Really appreciated.
I can't thank you enough. This trip made it possible for me to ski again after 8 years and I loved every minute.
Amazing friends and family trip! Great memories and experiences all round. Thanks to everyone who made it special.
Fabulous trip! Feel extremely privileged to have been a part of it!
Want to join us on a future inspection visit?
We'll put the details of future inspection visits on our inspection visits page, or please feel free to contact us to register your interest.