The #nationspeteacher returns
Joe Wicks became a staple in most of our lives during the first lockdown thanks to his 'PE with Joe ' workouts that took place every weekday morning. And he's back to help us through this lockdown with three workouts a week, taking place on Mondays, Wednesdays and Fridays. Don't forget your fancy dress outfits on Fridays!
And this time, Joe isn't the only one delivering free PE lessons – Marcus Rashford is taking on the role of celebrity PE supply teacher on the BBC .
Strictly's Oti hosting daily dance lessons
Oti Mabuse has also brought her daily dance lessons back. Just head to herFacebook Live andYouTube channel
every day at 11am!
Still want more dance?
On PopSugarFit's YouTube channel you'll find a range of 30-minute dance fit videos that might be of interest to those who have enjoyed Oti's sessions and want to do a bit more dancing!
Head to Twitter and YouTube for some sporty challenges!
Like the first lockdown, several organisations are tweeting daily challenges, including @cricketforgirls .
And over on YouTube, the YouthSportTrust are running their 'After School Sport Club' on Tuesdays and Thursdays at 5pm.
Check out Change4Life for some great indoor activities
Change4Life have put together some great indoor activities for children , including some Disney-themed ones which are great for younger children.
Take the alphabet fitness challenge
Challenge your students to spell their name out every day with this fitness challenge. Or give them a new word every day to spell out!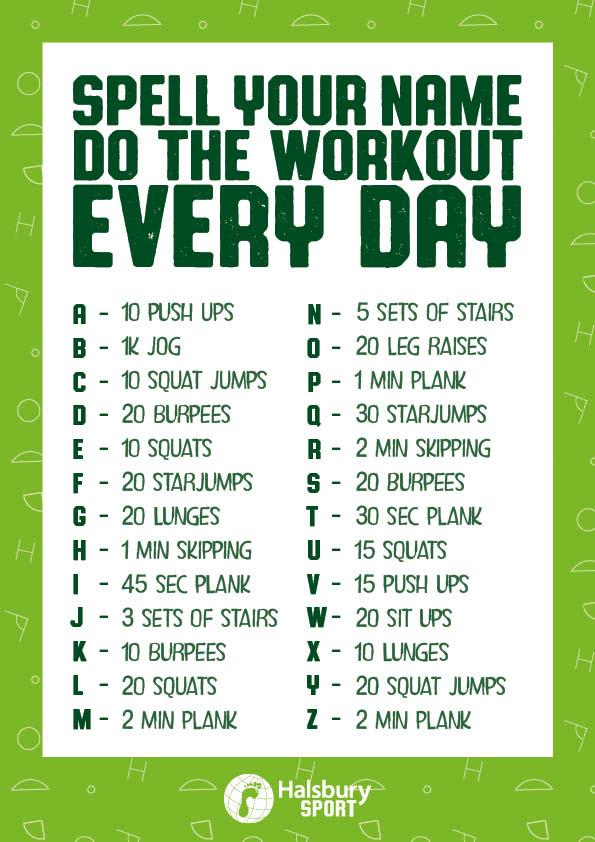 We hope these activities help to keep your students active, fit and healthy during this difficult time. Let us know how you get on and, indeed, if you have any other ideas for keeping students active by tweeting us @HalsburySport !