A school trip to Vietnam offers students the opportunity to immerse themselves in a culture that's very different from their own!
This makes it a wonderful choice for Activities Week, or simply as school trip designed to broaden horizons. Vietnam offers amazing value for money and is certainly one of the more affordable long-haul options for school trips.
There are lots of exciting opportunities for historians, geographers and even food technologists, making it ideal as a cross-curricular school trip. And highlights include an overnight boat cruise along Ha Long Bay, the fascinating Cu Chi Tunnels and, of course, the vibrant markets such as the floating markets of the Mekong.
Suggested Itinerary (9 days, 6 nights)
Day
Morning Summary
Afternoon Summary
Evening Summary
1

Flight to Vietnam

2

Arrive in Hanoi

Guided city tour - visit Hoan Kiem Lake and Ngoc Son Temple to experience daily life in Hanoi, visit Ho Chi Minh mausoleum (view from outside) and the Temple of Literature

Cycle tour through city's old quarter

Check in to hotel, free time to refresh

Evening meal at local restaurant

3

Transfer to Halong Bay

Board a traditional sailing junk for overnight cruise around the bay with a visit to a traditional floating village

Enjoy a traditional meal aboard

4

Enjoy your morning onboard with brunch as you cruise back to dock

Transfer to Yen Duc for short visit to a typical Vietnamese village

Transfer to Hanoi Airport

Flight to Ho Chi Minh City

5

Visit to Ho Chi Minh City's vibrant central market accompanied by local chef to learn about Vietnamese produce and ingredients

Cookery demonstration of traditional Vietnamese dishes with chef at local restaurant

Visit to War Remnants Museum

Visit to Dong Khoi street to see some great examples of French colonial architecture

Evening meal at local restaurant

6

Visit to the Reunification Hall, formerly known as the Presidential Palace

Visit to the FITO Museum to find out about traditional Vietnamese medicine

Visit to Thien Hau temple

Transfer to the Mekong Delta

Check in to resort with time to refresh

Visit a local market with a local chef

Prepare your own dinner with produce from the market at the hotel

7

Board private wooden boat to get closer to daily life and agricultural activities on the Mekong River

Visit to Cai Be floating market

Visit to local businesses producing rice paste, rice popcorn and coconut candy

Lunch at a local restaurant

Transfer to Ho Cho Minh City

Check in to hotel, time to refresh

Evening meal in local restaurant

Optional karaoke evening

8

Transfer to Cu Chi

Half-day tour of Cu Chi Tunnels

Transfer back to Ho Chi Minh City

Visit to Ben Thanh market

Dinner in the dark at NOIR restaurant

Transfer to airport for overnight return flight to the UK

9

Arrival back in UK
9 days, 6 nights Price from £1,769 pp
1 night aboard a sailing junk in Ha Long Bay
6 nights' half-board accommodation
ATOL protected return flights from the UK
Comprehensive travel and medical insurance
Detailed information pack
Entrance to visits and attractions as per itinerary
Free itinerary planning service
Free staff place ratio 1:10
Internal flight from Hanoi to Ho Chi Minh City
Local English-speaking guide during the tour
VAT at current rate to tour operators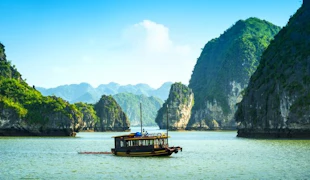 Take a Boat Cruise in Ha Long Bay
The best way to see Ha Long Bay is by boat! You'll see impressive limestone karsts, as well as grottoes, caves and islands!
Local legend has it that the bay was created when the gods sent dragons to protect the Vietnamese from invaders. The dragons dropped jewels into the bay and this created the islands, which formed a protective barrier against the enemy ships. The dragons remain resting in the waters today and the bay's name actually means 'where the dragon descends into the sea'.
A cruise around this spectacular bay is a must-do on a geography school trip to Vietnam and really is an experience that your students will never forget.
Did you know?
Ha Long Bay is home to around 1600 limestone islands and islets – and some of them are over 20 million years old!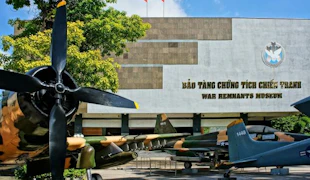 Visit the War Remnants Museum
Housing exhibits from both the Vietnam War and the First Indochina War against the French, the War Remnants Museum offers another opportunity to better understand the realities of war.
Across several buildings the exhibits are organised into themed rooms. There's also a yard with period military equipment and vehicles, including helicopters and fighter jets.
There is a focus on the acts of South Vietnam, for example, on display are the tiger cages in which political prisoners were kept, as well as a guillotine used to execute prisoners. And there is a graphic exhibition on the effects of Agent Orange.
Did you know?
When it first opened in 1975, the museum was called the Exhibition House for US and Puppet Crimes. In 1990 the name was changed to the Exhibition House for Crimes of War and Aggression. It changed for the final time in 1995 to the War Remnants Museum, after the normalisation of diplomatic relations with the US and the end of the US embargo.
Explore the Cu Chi Tunnels
Gain a better understanding of the realities of the Vietnam War and the experience of soldiers as you explore the intricate maze of interlinked tunnels.
The tunnels were used by the Viet Cong to hide out during combat. They were also important lines of communication and supply, and they acted as the Viet Cong's base of operations for the Tet Offensive in 1968.
The tunnels weren't just designed for fighting – whole communities hid down them sometimes, especially in areas that were bombed regularly. In this way, the tunnels saved many lives.
Did you know?
The tunnels were often boobie trapped, regularly using trip wires and explosives. The trip wires could activate any number of things, from grenades to snakes and scorpions falling on the heads of the unfortunate soldiers who tripped them.