Experience food influenced by cultures from all over the world on a food technology school trip to New York!
A vast melting pot of nationalities has given New York its unique flavour, evident in both its neighbourhoods and its food. On your school trip to New York, you can explore the markets and backstreets of the Big Apple, in search of great food from street vendors, delis and traditional restaurants. This tour is a great opportunity, offering a unique experience for your food technology group.
And you could even consider making this trip cross-curricular, by inviting other departments along to give more students the opportunity to explore New York. The city offers some great options for politics, art, business studies, performing arts, media studies, fashion, design and technology, maths and religious studies.
Suggested Itinerary (5 days, 3 nights)
Day
Morning Summary
Afternoon Summary
Evening Summary
1

Flight from UK to New York

Transfer to accommodation on arrival

Optional evening meal at a local restaurant

Take a stroll through Times Square and visit some of the major stores there including Hershey's and M & M World

2

Take the free Staten Island ferry for views of the Manhattan skyline

Half-day tour of a New York neighbourhood with food tastings

Visit the Empire State Building for evening views over the city

Optional evening meal at local restaurant

3

Take a New York pizza walking tour in Little Italy

Explore China Town at your leisure

Optional evening meal in a China Town restaurant, followed by a Broadway performance

4

Early morning visit to Union Square Market to see where the locals shop for fresh produce

Free time for shopping and sightseeing

Transfer to the airport

Overnight flight back to UK

5

Arrive back in the UK
5 days, 3 nights Price from £779 pp
3 nights' bed and breakfast accommodation
Airport transfers in resort
All flights including tax
Comprehensive travel and medical insurance
Detailed information pack
Free staff place ratio 1:10
Itinerary planning service
VAT
GCSE
Where and how ingredients are grown, caught and reared
Distinctive features of international cuisine
International cuisine: cooking methods and equipment
Traditional and modern variations of recipes
Understand religious
/cultural factors affecting cuisine
Key Stage 3
Understand the source, seasonality and characteristics of a broad range of ingredients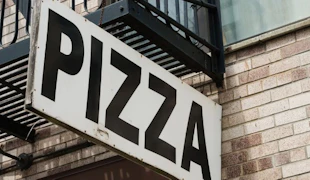 Take a Pizza Tour
The only way to taste New York is by eating its pizza, which is exactly what you'll do on this guided tour, while learning more about how this city made an Italian dish its own!
Italians began to immigrate to the US during the 19 th century and a large Italian-American community was established in New York. Pizza restaurants began to spring up, with pizzas usually priced by the pie.
Unable to pay for the whole pizza, customers began to ask for a slice. Typically, New York-style pizza now is a large, thin crust cut into wide slices, usually folded to be eaten. Toppings are often simple, with cheese and tomato sauce still one of the most popular.
Did you know?
It was once believed that the specific minerals found in the city's tap water were what gave New York pizza bases their characteristic flavour and texture. Some pizza restaurant owners even transported New York water across the country to achieve these, but this theory has since been debunked.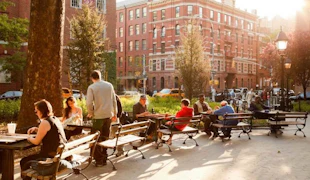 Take the Greenwich Village Food and Culture Walking Tour
This tour will help your students understand what makes Greenwich Village so unique in the rich New York foodie scene!
Generally considered to be one of the most charming neighbourhoods in New York City, Greenwich Village has a fascinating history, from its Italian immigrant legacy to its status as a bohemian enclave.
Here you'll certainly taste some incredible Italian food, but you'll also have the chance to see innovative dishes and produce of the finest quality.
Did you know?
There's some real foodie history in Greenwich Village, from the first cappuccino served in the United States at Café Reggio, to Mamoun's Falafel, the first falafel restaurant in New York.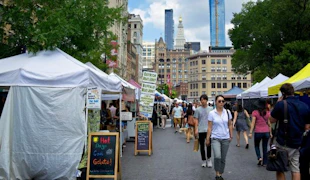 Visit Union Square Market
This market offers small, family farmers the opportunity to sell their fresh produce to New Yorkers!
The Greenmarket programme was established in 1976, to provide regional small family farmers the opportunity to sell their produce in the city. The Union Square Greenmarket is know by far the best known and is held on Mondays, Wednesdays, Fridays and Saturdays throughout the year.
With the average distance between the farms where the produce is grown and the market around 90 miles, the market allows New Yorkers to get hold of incredibly fresh, seasonal produce.
Did you know?
It's estimated that more than one thousand varieties of fresh fruit and vegetables can be found at the Union Square Greenmarket!