An art school trip to New York will be a completely unforgettable, inspirational experience for your young artists!
Home to a wide selection of art museums and photographic collections, New York is recognised worldwide as a centre for arts and culture, and so is a must-visit destination for your young artists. There really is a fantastic selection of visit options for your school art trip to New York, from landmark institutions such as MOMA, to more niche offerings, such as the International Center of Photography.
Why not open your school trip to New York up to more students by making it cross-curricular? This is a great destination for all kinds of subjects, including politics, business studies, performing arts, media studies, fashion, design and technology, food technology, maths and religious studies.
Suggested Itinerary (5 days, 3 nights)
Day
Morning Summary
Afternoon Summary
Evening Summary
1

Flight from UK to New York

Transfer to accommodation on arrival

Optional evening meal at local restaurant

2

Visit the Frick Collection

Visit the Metropolitan Museum of Art

Visit the Guggenheim Museum

Visit the Empire State Building for evening views across the city

Optional evening meal at local restaurant

3

Visit the International Centre for Photography

Visit the New Museum of Contemporary Art

Optional evening meal at a Times Square restaurant

Chance to enjoy a Broadway show

4

Visit the Museum of Modern Art (MoMA)

Transfer to the airport

Overnight flight back to the UK

5

Arrive back in the UK
5 days, 3 nights Price from £1,249 pp
3 nights' bed and breakfast accommodation
Airport transfers in resort
All flights including tax
Comprehensive travel and medical insurance
Detailed information pack
Free staff place ratio 1:10
Itinerary planning service
VAT
A-Level
Impact and influences of various artists
Continuity and change in different genres and styles
Independent judgements of art
Conveying meaning through images and artefacts
Social and cultural context of images and artefacts
Personal portfolio: reflections, resources and influences
GCSE
Responses to museum, gallery and site visits
Personal reflections on art
Works of key artists, craftspeople and designers
Contemporary and historical contexts of art
Key Stage 3
Evaluation and analysis of creative works
Works of great artists, craft makers and designers
Effects of historical and cultural contexts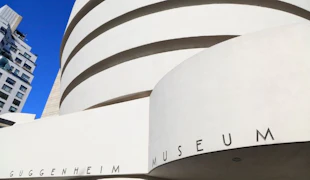 Visit the Guggenheim New York
The iconic Guggenheim Museum specialises in 20 th century art, with a rotating permanent collection, as well as temporary exhibitions. And it's completely unmissable for art school trips to New York.
The Solomon R. Guggenheim Foundation was created in 1937, with its first venue opening two years later, to allow the public to see the somewhat eccentric collection that Guggenheim had amassed.
The iconic building that now houses the collection opened in 1959 and was designed to be a 'temple of spirit' where radical art and architecture meet.
Did you know?
Unlike more traditional art galleries and museums, where the art is often displayed in different rooms, forcing visitors to retrace their steps, at the Guggenheim you take a lift to the top and then view each piece of art as you slowly descend the spiral ramp back to the ground floor.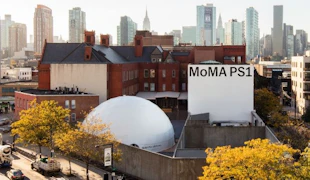 Visit MoMA
Explore one of the world's leading collections of contemporary art at New York's MoMA!
MoMA is considered to be one of the largest and most influential modern art museums in the world, which makes it an unmissable stop on an art school trip.
The museum's collection includes over 150,000 pieces. 22,000 films and 4 million film stills. Some of the most famous works of art in the collection include Dalí's The Persistence of Memory, Picasso's Les Demoiselles d'Avignon and Van Gogh's The Starry Night.
Did you know?
There's a work called *Object* by Meret Oppenheim that has a curious history. The fur covered cup and saucer was conceived during a lunch with Picasso, who said that fur could be put on anything. It was purchased by MoMA's director for $50 of his own money in 1936, but the trustees would not agree to its inclusion in the collection. They later changed their minds, completely oblivious to the fact it had been installed in the museum a decade before and labelled as an 'extended loan'!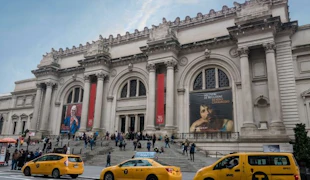 Visit the Metropolitan Museum
The Metropolitan Museum is one of the world's most prestigious art museums and its permanent collection spans around 5,000 years!
The largest art museum in the US, the Met's permanent collection includes more than 2 million works by artists such as Rembrandt, Vermeer, Caravaggio, Degas, Renoir and Turner.
The museum has three locations in New York. The main building is on Museum Mile on the eastern edge of Central Park and is one of the largest art galleries in the world by area. The second building, known as The Cloisters, is at Fort Tyron Park in Upper Manhattan and focuses on medieval European art. And the Met Breuer is on Madison Avenue and features modern and contemporary art.
Did you know?
The Met also houses around 5,000 instruments, including the world's oldest surviving piano, which dates back to 1720 and was built by the creator of the piano himself, Bartolomeo Cristofori.