I've just returned from five days in New York. What a fantastic city! It's true what they say - New York really is the city that never sleeps! It has so much to offer school music groups, from the chance to watch Broadway shows, perform in unique venues and visit iconic sights, such as the Empire State Building and Central Park.
Day 1
I caught my flight from Heathrow Terminal 5 to New York's JFK airport. The seven hour flight with British Airways was very good – check-in was stress-free, and we were provided with good food and entertainment on board.
Going through customs was quicker and easier than I'd imagined, although the traffic meant that the taxi ride to my hotel in Manhattan was long!
When I did finally arrive at my hotel, the Hotel Day Inn Broadway on 96th Street, I was impressed with its traditional New York feel. The 12 storey hotel had a big lobby and I was greeted by a very friendly receptionist, who directed me to my room, which was basic, yet comfortable, spacious and surprisingly quiet. There are plenty of shops and cafes around the hotel too, making it very easy for students to pick up water and snacks for the day ahead, should they wish to.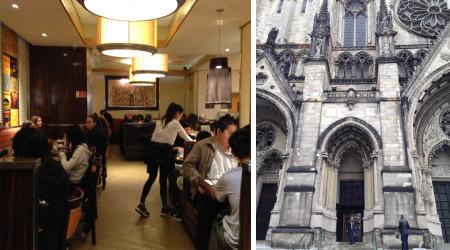 Day 2
The next morning I met with my colleague Zoe, who was also here as a rep for Sha Tin College from Hong Kong, who were here on a food technology trip. We all headed to the local diner for some breakfast – the Manhattan Diner was just a short 5 minute stroll from our hotel.
I loved this little diner, which to me felt like 'authentic' New York. We had pancakes, sausages and eggs, and the portions were enormous! The students absolutely loved it and we ended up going there every morning for our breakfast!
After finishing breakfast I left the group to meet the concert organiser at St. John the Divine in Amsterdam Avenue, just 10 minutes' walk from the hotel.
This is a really prestigious cathedral, where concerts take place during lunchtime. They're always very happy to welcome visiting choirs and the acoustics are great. There's a piano you can use for your performance, and the audiences are usually really good too.
After my meeting I took the subway to Lower Manhattan, where I went to pay my respects to the victims of 9/11 at Ground Zero. For me, this was a really moving experience. The memorial itself is free to visit, but there's also a museum, which costs about $15 per student.
After visiting Ground Zero, I took the subway back to Times Square, for an early dinner. The subway really is the best and cheapest way to travel around Manhattan – the traffic is insane and if you were to take a coach, I think you'd spend your entire tour stuck in traffic!
For dinner we enjoyed Mexican-style fare at Chevys, before taking a quick 15-minute subway ride back to the hotel.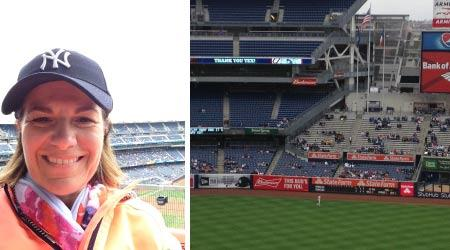 Day 3
Being a Sunday, the group decided to start the day in true New York fashion, with a stroll through Central Park (the hotel being just 10 minutes north of the park).
We stopped by Strawberry Fields, the area of the park dedicated to John Lennon. We paid our respects to the legendary musician at the beautiful 'Imagine' memorial there.
We also stopped by the famous Naumberg bandshell, where Martin Luther King once spoke, and where school music groups can choose to perform!
We then spent a little time shopping before making our way to the Yankee Stadium. The trip took just 15 minutes by subway and so we arrived in time for the pre-game lunch. On arrival we went up to the Mohegan Sun sports bar, where we enjoyed burgers, hot dogs and soft drinks – an amazing experience! The game ran from 3pm until 6pm and, even for those of us who knew nothing about baseball, it was a uniquely American experience that we'll all remember, aided by the Yankees baseball cap we were all given as a souvenir.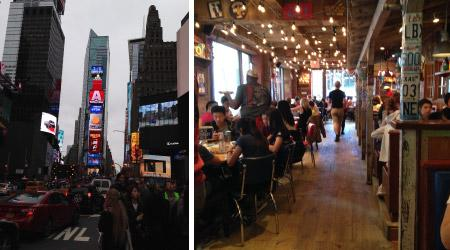 Day 4
After another delicious breakfast at the Manhattan Diner I left the group to meet the organiser of Inbound Broadway workshops. And what a successful meeting it was!
These workshops take place in professional studios and give you the opportunity to learn or enhance your acting or musical skills. They can then link what you've learned in your workshop to whichever Broadway show you wish to see. You might even have the opportunity to meet the show's performers!
I then met with one of the tour organisers from On Location, who specialise in guided tours of film and TV locations – always a hit with school music groups! After your tour, you can even shoot your own mini-movie, which is a really exciting experience for students.
Later on, I headed up to Lexington Avenue, to meet the coordinator of St. Peter's Church. This lovely modern church boasts a great acoustic and makes a fantastic venue for your school music group to perform in. Very keen to welcome visiting choirs to perform lunchtime concerts, they're also pretty flexible in terms of repertoire too.
Finally, after a day packed full of meetings it was time for some food! I met the group at the Bubba Gump restaurant on Times Square, where we feasted on a huge selection of fish, seafood and salad in this Forest Gump-themed restaurant.
Afterwards we took a look around Times Square by night – it really is spectacular!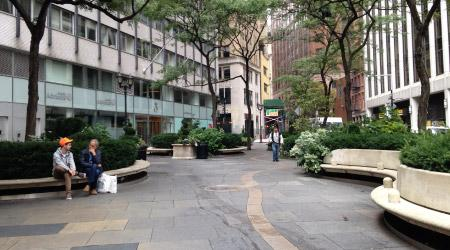 Day 5
Our last day and time to say goodbye to our best friend – the Manhattan Diner!
After checking out of the hotel, I made my way over to Lower Manhattan, where I was to meet with the concert coordinator from the Queen Elizabeth II September 11th Garden, where we can arrange for our school music groups to perform.
The garden is not far from Wall Street and, as concerts usually take place at lunchtime, the audiences are usually pretty reliable, as many come to enjoy their lunch in the garden. The Garden is dedicated to the British and Commonwealth victims of the 9/11 terrorist attacks, so they're very keen for British groups to perform there.
I then popped over to Trinity Church to take a look around, as they too welcome school music groups to perform lunchtime concerts.
After this, it was sadly time to head back to the hotel to grab my luggage before catching the flight home!
I've travelled to New York several times and it remains one of my favourite cities for school concert tours. It really does have everything – the fun, the excitement and, of course, some truly iconic venues in which to perform!
If you're looking for a school music tour that promises to inspire your ensemble, New York could be the answer. Why not give me a call to see if it could be the perfect destination for you?