Explore the heart of TV and film production in the USA on your media studies school trip to Los Angeles!
Home to Hollywood, the neighbourhood synonymous with glamorous, world-famous stars, Los Angeles attracts innumerable hopefuls every year.
A vortex of creative energy spawns a never-ending stream of movies, inventions and trends. As the home of the American movie industry, Los Angeles has so much to offer your group in terms of inspiration and is the perfect destination for your media studies school trip! And you could even consider teaming up with the performing arts department to make this a cross-curricular trip to give more students the chance to explore L.A.!
Suggested Itinerary (5 days, 3 nights)
Day
Morning Summary
Afternoon Summary
Evening Summary
1

Flight to Los Angeles

Arrive in LA and transfer to hotel

Free to explore

2

Spend the day at Universal Studios Park with studio tour

Continue your full-day excursion to Universal Studios Park

Free to explore

3

Explore the city at your leisure - visit Hollywood Blvd, Mann's Chinese Theater and the Hollywood Walk of Fame

Continue exploring Los Angeles

Optional meal at the Hard Rock Cafe

4

Visit Greystone Park and Mansion where filming often takes place

Transfer to the airport and check in

Overnight flight to UK

5

Arrival back into UK
5 days, 3 nights Price from £999 pp
3 nights' accommodation (room only)
Airport transfers in resort
All flights including tax
Comprehensive travel and medical insurance
Detailed information pack
Free staff place ratio 1:10
Itinerary planning service
VAT
All Levels
Film and TV production
Personnel within the media industry
Technological advances in the production process
Industry working practises
Targeting and reaching audiences
Media portrayal of events and social issues
Advertising and marketing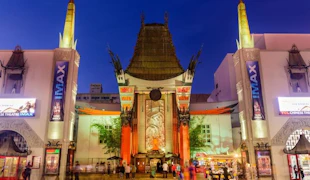 Visit Grauman's Chinese Theatre
This remarkable movie theatre is often used for premieres and, dating back to 1927, has a rich history of Hollywood stars walking the red carpet!
The theatre opened in 1927, in the midst of the Golden Age of Hollywood, and is a lavish movie palace built in the Exotic Revival architectural style, similar to the earlier Grauman's Egyptian Theatre.
Some of the premieres hosted by the theatre include that of the original Star Wars movie in 1977 and the Wizard of Oz in 1939.
Did you know?
When you reach the theatre's forecourt, make sure you look down, where you'll see the handprints, footprints and autographs of nearly 200 Hollywood stars. You'll also see Groucho Marx's cigar, one of Whoopi Goldberg's dreadlocks and Daniel Radcliffe, Rupert Grint and Emma Watson's wands from the *Harry Potter* films.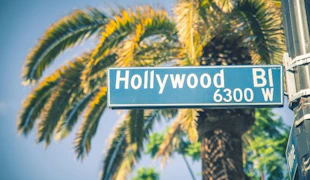 Explore Hollywood Boulevard
Find your favourite stars on Hollywood's Walk of Fame and learn more about the historic buildings that line (or, in some cases, lined) the street and their links with the stars.
Hollywood Boulevard is one of the most famous streets in the world and is a must-see when on a school trip to Los Angeles. The most famous part is the fifteen blocks from La Brea Avenue east to Gower Street, as this is where the Hollywood Walk of Fame is primarily located.
There are a number of other tourist attractions along the street too, including Grauman's Chinese and Egyptian Theatres, the Dolby Theatre, which is home to the Academy Awards and the El Capitan Theatre which hosts most of the Disney film premieres.
Did you know?
There are currently over 2,600 stars on the Hollywood Walk of Fame, with around 20 added each year. Stars are awarded to honour achievements in five categories within the entertainment industry, with almost half awarded within the motion picture category.
Visit Universal Studios LA
As a whole theme park based around TV and film, Universal Studios is the ideal inclusion on your media studies trip itinerary!
The self-styled 'Entertainment Capital of LA' was originally created to provide visitors with the opportunity to visit the Universal studio sets and is one of the oldest and most famous Hollywood film studios still in use, making it well worth a visit for any movie buff!
There are many attractions at the park, from The Wizarding World of Harry Potter to Jurassic World and, of course, the world-famous Studio Tour, where you'll explore the backlot of a real working movie studio!
Did you know?
The original visitors to the studios paid an admittance fee of just five cents, which include a chicken lunch. They also had the opportunity to pick up some fresh produce during their visit, thanks to the fact that there was still a working farm on the lot.