A school expedition to Borneo offers your students the opportunity to learn more about traditional tribal life, and to find out more about local wildlife conservation!
You'll visit Sabaha, a northern state in the Malaysian part of the island of Borneo. As well as enjoying the incredible scenery, from the jungle to the breathtaking views from the Tip of Borneo, your group will have the chance to explore local life.
Highlights of the trip will include staying overnight with an indigenous ethnic group, visits to orangutan and sun bear rehabilitation centres, and the chance to visit the majestic Mount Kinabulu, a UNESCO World Heritage Site.
Suggested Itinerary (11 days, 9 nights)
Day
Morning Summary
Afternoon Summary
Evening Summary
1

Flight from UK.

Overnight to Kota Kinabalu.

2

Arrive in Borneo. 

Transfer to your hostel and check in.

Enjoy an afternoon to relax at your leisure. 

Take in the sunset on Tanjung Aru Beach.

3

After breakfast, enjoy a city tour of Kota Kinabalu and its main sights before stopping at Signal Hill for a spectacular view of the city and nearby islands. 

Visit the Mari Mari Cultural Village - visit the traditional houses of five tribes, see demonstrations of past daily life and find out how their descendants are keeping their traditions alive. 

Enjoy a sumptuous high tea with local delicacies before returning to the accommodation. 

4

Enjoy some adventure on a Tembara River Tour. 

Enjoy cycling in Serusup before enjoying lunch. 

Kayak to the lagoon and to Kg. Suang Bungan and take a walk along the jetty by the mangrove forest. 

Depart for Tembara jetty and enjoy refreshments on arrival. 

Enjoy a river cruise with crab catching and a beach visit.

On return to Tembara enjoy a local dinner at the Riverside Café before an evening cruise in the mangrove forest to see the fireflies in action. 

Return to the accommodation. 

5

After an early breakfast, transfer to Kudat, which is approx. 3 hours' drive through paddy fields and palm plantations. 

Visit a bee farm en route, Sumangkap village, famous for gong making, and Bavanggazo village to see a traditional longhouse, home of the Rungus people.

Enjoy lunch before proceeding to Tanjung Simpang Mengayau or the Tip of Borneo. 

Witness the beautiful views of the South China Sea and Sulu Sea meeting. 

Return to Kota Kinabalu with the evening at your leisure. 

6

Enjoy a community-based project at Kiau Taburi village. 

Taking part in these activities puts back into this Dusun tribal community. 

Take the 1.5 hour trek with your local guide to the village where you'll be given lunch by a host family on arrival. 

Visit a pineapple farm before a 2-hour trek to search for wildly grown herbs. 

Gather locally grown vegetables at a nearby farm and cook them in the Dusun Way. 

Try your hand at basket weaving and beading with the villagers.

Enjoy dinner with a musical bamboo performance and dance. 

Try for yourself the Sumazau dance. 

Overnight at the Kiau Taburi homestay.

7

After breakfast visit the Skull Sanctuary to see remnants of the headhunting era. 

Say goodbye to your hosts and continue to visit Mount Kinabalu. 

Visit the WWII Memorial Park and the Desa cattle dairy farm. 

Visit Poring hot springs with its special healing properties, as well as its 20m high canopy walkway. 

Transfer overland to Sepilok through oil palm plantations and little villages. 

On arrival, check in and relax. 

8

After breakfast, head to the world-famous Sepilok Orangutan Rehabilitation Centre. 

Join a briefing on this beautiful creature before taking a boardwalk through the lowland forest to see them feeding. 

Continue on to see your next Bornean resident at the Sun Bear Conservation Centre.

Head to Bilit Rainforest Lodge for briefings on the programmes with your local guide. 

Take a cruise along the Kinabatangan River to discover Proboscis monkeys and other wildlife. 

Return to the lodge at sundown and enjoy a relaxing dinner. 

9

Early cruise to an ox-bow lake for bird watching. 

Enjoy a short jungle walk before breakfast. 

Spend the rest of the day exploring and enjoying these beautiful surroundings. 

Late afternoon boat cruise for more flora and fauna spotting. 

Evening meal at the lodge. 

10

Depart early morning and visit the Gomantong Cave, famed for its edible birds' nests. 

Explore the cave network on its boardwalks. 

Return to Sandakan to take your flight back to Kota Kinabalu. 

On arrival, transfer to your hotel for an evening at leisure. 

11

Today is at leisure until your departure. 

Flight back to the UK. 
11 days, 9 nights Price from £3,200 pp
24-hour assistance from Halsbury Travel in the UK
Accommodation for 9 nights with meals as shown
Air-conditioned coach
Airport tax and passenger duty at current rates
Comprehensive travel and medical insurance
English-speaking guide
Entrance to visits and attractions as per itinerary
Free staff place ratio 1:10
Internal flights in Borneo
Return flights from the UK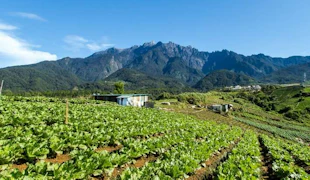 Community-Based Project at Kiau Taburi Village
Immerse yourselves in the life of a rural village at the foot of Mount Kinabulu. You'll be welcomed into the homes of your host families on arrival to enjoy a traditional lunch.
You'll then visit a pineapple farm before heading into the jungle, to forage for wild herbs. Before you head back to the village, you'll pick some locally grown vegetables. Everything you bring back will be used in the traditional dinner served to you in the evening, before you learn a traditional dance.
The following day, you'll visit the Skull Sanctuary, which is believed to be a remnant of the headhunting era, before bidding farewell to your hosts having enjoyed an authentic experience of Bornean tribal life.
Did you know?
Kiau is a Dusun tribal village. The Dusun, along with the closely-related Kadazan, are the largest ethnic group in the state of Sabah.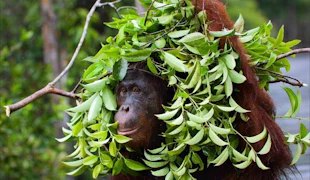 Sepilok Orangutan Rehabilitation Centre
The centre was founded in 1964, to rehabilitate orphaned orangutans and is on protected land on the edge of the Kabili Sepilok Forest Reserve.
There are currently around 25 orphaned orangutans living at the centre, along with up to 80 adult individuals living freely in the reserve.
The centre's aim is to rehabilitate orangutans so that they can be released back into the wild. The food provided is monotonous, to encourage them to forage. And youngsters are paired up with older orangutans to learn important skills from them, as they would from their mothers in the wild. Plus, although visitors are invited to see the orangutans, they are not permitted to approach or interact with them, to ensure that they do not become tame.
Did you know?
We humans share about 97% of our DNA with orangutans, meaning that they're one of our closest living relatives. In fact, the word 'orangutan' means 'man of the forest' in Malay.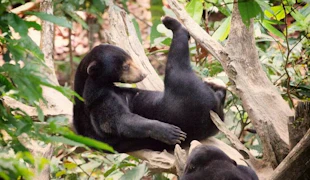 Bornean Sun Bear Conservation Centre
Sun bears are only found in Malaysia and are listed as Vulnerable on the IUCN Red List. Their existence is threatened by illegal hunting for the traditional Chinese medicine trade, poaching for the pet trade and forest degradation.
Many sun bears end up captive in poor conditions and the conservation centre provides those that are rescued with a safe and more appropriate environment, with a view to rehabilitating them and, eventually, releasing them back into the wild.
Since the centre opened in 2008 it has rescued 61 bears and released 7 back into the wild. There are currently 43 bears residing at the centre.
Did you know?
The sun bear is the smallest species of bear, growing up to 5 feet and weighing up to 150 pounds. Despite its name, the sun bear is nocturnal – it actually gets its name from the crescent of lighter fur on its chest.