A school trip to Japan will allow your students to experience a culture completely different to their own!
Together, you'll explore a world of bright lights and the latest technology, alongside ancient tradition and nature at its finest. You can learn about the country's geography, its art and even its booming economy and fascinating business culture.
Your school trip to Japan will take you to some of the country's most exciting and beautiful destinations, as you explore buzzing Tokyo, serene Hakone and the imposing Mount Fuji. Why not end your trip in the stunning temples and ancient streets of Kyoto, to experience the more traditional side of Japan?
Suggested Itinerary (9 days, 7 nights)
Day
Morning Summary
Afternoon Summary
Evening Summary
1

Overnight flight to Tokyo

2

Arrive in Tokyo

Meet guide and transfer to accommodation

Free time to explore with your guide

Free evening

3

Meet the tour leader and local guide for sightseeing - Hamarikyu, Asakusa, Sensoji and Odaiba

Continue sightseeing

Free evening

4

Meet tour leader and local guide for sightseeing - Metropolitan Building, Meiji Jingu, Harajuku and Shinjuku

Continue sightseeing

Free evening

5

Full-day tour to Hakone with views of Mt. Fuji

Enjoy the Komagatake Ropeway and a cruise on Lake Ashi

Visit the Hakone Open Air Museum before returning to Tokyo

Free evening

6

Transfer by coach to Odawara station and take the world-famous bullet train to Kyoto

Luggage will be forwarded separately

Arrive in Kyoto and transfer to accommodation

Free time to explore

Evening meal at local restaurant or in accommodation

7

Full-day sightseeing by coach - Kiyomizudera Temple, Sannen-Zaka, Ninen-zaka and Maruyama-koen Park

Enjoy a tea ceremony experience

Evening meal at local restaurant or in accommodation

8

Full day sightseeing of Kyoto by private coach: Nijo-jo and Kinkakuji (Golden Pavilion)

Arashiyama sightseeing: Togetsukyo Bridge, bamboo groves and monkey park

Evening meal in local hostel or accommodation

9

Return flight to UK

Arrive back in UK
9 days, 7 nights Price from £1,999 pp
3 nights' half-board accommodation in Kyoto
4 nights' bed and breakfast in Tokyo
7 nights' accommodation in multi-occupancy dorm rooms
Airport transfers in resort
Comprehensive travel and medical insurance
Detailed information pack
Entrance fees to attractions as shown in the programme
Free staff place ratio 1:10
Full-time tour leader and additional guide in Tokyo for sightseeing
Itinerary planning service
Luggage forwarding from Tokyo to Kyoto
Public transport and private coach as per itinerary
Return air travel inclusive of tax
VAT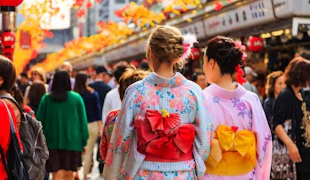 Visit the Asakusa Area
The Asakusa Area is one of the more traditionally Japanese areas in Tokyo and is home to a number of Buddhist and Shinto temples and shrines.
A popular entertainment district, and Tokyo's oldest geisha district, the area was famous for its theatres and cinemas in the early 20 th century. However, it was heavily bombed during the Second World War and, although rebuilt, Asakusa was surpassed by other areas such as Shinjuku in terms of entertainment.
But it remains a fantastic place in which to learn more about Japanese culture and traditions. There are many fantastic restaurants here serving traditional Japanese dishes and, if you're lucky, your visit may coincide with one of the many matsuri (Shinto festivals) that are held here.
Did you know?
One of the highlights of Asakusa is the Senso-ji, an ancient Buddhist temple that was originally founded here in 645 AD.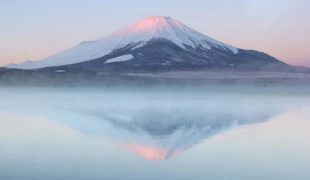 See Mt. Fuji
Still classed as an active volcano by geologists, despite not having erupted since 1707, Mount Fuji is the tallest mountain in Japan! Despite lying around 100km south-west of Tokyo, it can be seen from the Japanese capital on a clear day.
Mount Fuji is one of the country's 'Three Holy Mountains', along with Mount Tate and Mount Haku, and is sacred to both Buddhists and Shintoists.
It's also a UNESCO World Heritage Site and a national symbol of Japan. Mount Fuji has inspired poets and artists for centuries, placing it right at the heart of traditional Japanese culture - no trip to Japan is complete without a visit here.
Did you know?
Mt. Fuji is actually three volcanoes in one – making it a stratovolcano! The bottom layer is made up of the Komitake volcano, the middle layer is the Kofuji volcano and the top layer, which is the youngest, is Fuji.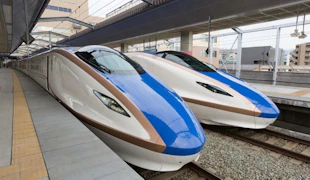 Take the bullet train
The bullet train, or Shinkansen, is a network of high-speed railway lines designed to connect the more distant regions of Japan to Tokyo, to help develop economic growth and development in the post-war period.
The bullet train's debut in 1964, just a week and a half before the start of the Tokyo Olympic Games, was a huge victory for Japan, showing the world that the nation had recovered from the Second World War. This was the world's first high-speed commercial train.
So, taking a trip on the bullet train will not only give you the opportunity to spend more time exploring Japan, it will also give your group some insight into the country's economic history.
Did you know?
The bullet train can travel at speeds of up to 199 mph. This high-speed marvel means you can travel from Tokyo to Kyoto, a distance of 320 miles, in 2 hours and 18 minutes. And you can travel the 559 miles from Tokyo to Hiroshima in just a little over 4 hours!