An art school trip to Tokyo will open your students' eyes to completely different styles and traditions!
Japan is an excellent destination for a school art trip abroad - and discovering the art and culture in and around Tokyo is certainly a real highlight. Art takes many forms in Japan, including but not limited to pottery designs, ink painted silks and bonsai, as well as the more vivid designs of exotic gardens and buildings.
And it's not surprising that so much beautiful art has been created here – Japan is a naturally beautiful country highlighted by the pinks of cherry blossom in the spring and an explosion of warm colours in the autumn. If you want to open up your trip to more students, why not join forces with the geography or business studies department to make your trip cross-curricular?
Suggested Itinerary (8 days, 6 nights)
Day
Morning Summary
Afternoon Summary
Evening Summary
1

Overnight flight to Tokyo

2

Arrive in Tokyo

Meet guide and transfer to accommodation

Free time to explore with your guide

Evening meal at local restaurant or accommodation

3

Visit Asakusa and Nakamise Street

Optional kimono-wearing experience (supplement applies)

Visit the Amuse Museum

Visit Tokyo National Art Museum

Evening meal at local restaurant or accommodation

4

Visit the Imperial Palace

Visit the Nezu Museum

Visit the Meji Shrine

Evening meal at local restaurant or accommodation

5

Full day tour to Hakone with views of Mt. Fuji

Enjoy the Komagatake Ropeway and a cruise on Lake Ashi

Visit the Hakone Open Air Museum before returning to Tokyo

Evening meal at local restaurant or accommodation

6

Visit the National Art Centre of Tokyo

Visit the Mori Museum and Roppongi Hills Observation Deck

Evening meal at local restaurant or accommodation

7

Visit the Anime Museum

Free time for last-minute sightseeing and shopping

Evening meal at local restaurant or accommodation

8

Return flight to UK

Arrive back in the UK
8 days, 6 nights Price from £1,999 pp
6 nights' half-board accommodation
All flights including tax
Coach transfers
Comprehensive travel and medical insurance
Detailed information pack
Free staff place ratio 1:10
Itinerary planning service
Mount Fuji tour
Public transport and private coach as per itinerary
VAT
Visits and entrance fees as per the sample itinerary
A-Level
Impact and influences of various artists
Continuity and change in different genres and styles
Independent judgements of art
Conveying meaning through images and artefacts
Social and cultural context of images and artefacts
Personal portfolio: reflections, resources and influences
GCSE
Responses to museum, gallery and site visits
Personal reflections on art
Works of key artists, craftspeople and designers
Contemporary and historical contexts of art
Key Stage 3
Evaluation and analysis of creative works
Works of great artists, craft makers and designers
Effects of historical and cultural contexts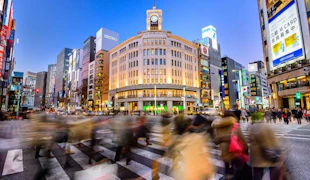 Visit the Ginza Area
The Ginza area is most famous for its high-end shopping. Here you'll find trendy department stores packed to the rafters with all the latest designer gear, including some of Japan's most famous labels, such as Uniqlo, Comme des Garçons and Muji.
But Ginza isn't all about shopping – some of Tokyo's best restaurants are located in this area. Whether you're after sushi, sashimi, tempura or ramen, there is a restaurant in Ginza to satisfy your cravings.
And don't miss the opportunity to watch a performance of kabuki (traditional Japanese drama) at the Kabuki-Za – this is the city's best-known theatre for the art form.
Did you know?
This is one of the most expensive areas of real estate in Tokyo, with one square metre of land in the centre worth more than 10 million yen!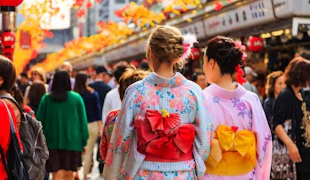 Visit the Asakusa Area
The Asakusa Area is one of the more traditionally Japanese areas in Tokyo and is home to a number of Buddhist and Shinto temples and shrines.
A popular entertainment district, and Tokyo's oldest geisha district, the area was famous for its theatres and cinemas in the early 20 th century. However, it was heavily bombed during the Second World War and, although rebuilt, Asakusa was surpassed by other areas such as Shinjuku in terms of entertainment.
But it remains a fantastic place in which to learn more about Japanese culture and traditions. There are many fantastic restaurants here serving traditional Japanese dishes and, if you're lucky, your visit may coincide with one of the many matsuri (Shinto festivals) that are held here.
Did you know?
One of the highlights of Asakusa is the Senso-ji, an ancient Buddhist temple that was originally founded here in 645 AD.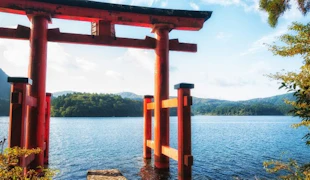 Be inspired by Lake Ashi
Beautiful Lake Ashi is a crater lake formed in the caldera of Mount Hakone over 3,000 years ago. It's famous for its beautiful scenery, which can include views across the iconic Mt. Fuji, when cloud cover permits.
The best way to see the beauty of this lake is to hop aboard a sightseeing boat – some of which are modelled to look like pirate ships!
One of the highlights of the lake is the Hakone Shrine, a traditional Shinto shrine. Its presence is signalled by the huge torii gate which rises out of the lake itself.
Did you know?
Lake Ashi has long inspired artists, especially those of the *Ukiyo-e* genre of woodblock prints and paintings. Hokusai featured the lake in his famous *Thirty-Six Views of Mount Fuji* and Hiroshige also depicted it in his series *The Fifty-Three Stations of the T**o**kaid**o*.