A geography school trip to Costa Rica offers your students the opportunity to explore one of the most bio-diverse countries in the world!
Here you'll find cloud forests, volcanoes, mangroves and tropical beaches. On a school trip to Costa Rica will let your students get up close to the local wildlife, experience geothermal activity in the most enjoyable way, hike over lava flows and end your trip in surfers' (and turtles') paradise – the Pacific Ocean!
To make this even more special, Costa Rica is at the forefront of sustainable tourism, so you can also enjoy a guilt-free geography school trip with minimal impact on this beautiful destination.
Suggested Itinerary (9 days, 7 nights)
Day
Morning Summary
Afternoon Summary
Evening Summary
1

Board your flight to San José

Meet guide on arrival and transfer to hotel

Enjoy a welcome dinner at your hotel

2

Transfer to La Fortuna in the foothills of Arenal Volcano

Guided hike on the volcano lava trails and visit to Los Patos Lagoon

Visit Baldi Hot Springs to see the geothermal activity, folllowed by dinner

3

Visit to a rural school with an artistic performance from the students

Board a tractor pulled wagon to visit La Casona, country home to former Costa Rican President Rafael Iglesias

Enjoy a tortilla lunch served on a banana leaf and visit the sugar cane bill

Evening meal

4

Take a nature boat tour at Caño Negro Wildlife Refuge and the Río Frio - keep your eyes peeled for monkeys, sloths, birds and reptiles

Lunch included during the boat tour before returning to your hotel for an afternoon at leisure

Evening meal

5

Travel to Monteverde Cloud Forest

Enjoy exploring the beautiful Cloud Forest with over 2,500 varieties of plants

Evening meal

6

Visit the Monteverde Cloud Forest reserve, famous for its biodiversity, conservation, contributions and scientific research

Travel to the Pacific Coast area and Tamarindo Beach, famous for sea turtles and surfing

Evening meal at the hotel

7

Morning free to enjoy the hotel facilities or book an activity such as kayaking or surf lessons

Spend the afternoon at the beach

Evening meal at the hotel

8

Depart from hotel in San José

Overnight return flight

9

Arrive in the UK
9 days, 7 nights Price from £1,745 pp
7 nights' half-board accommodation
Air-conditioned coach
Airport taxes and passenger duty at current rates
ATOL protected return flights from the UK
Comprehensive travel and medical insurance
Detailed information pack
Free staff place ratio 1:10
Itinerary planning service
Local English-speaking guide during the tour
Tours and activities as listed in the itinerary
Vamoos travel app - giving you access to all your trip documents on your phone or tablet
VAT at current rates to tour operators
A-Level
Earth structure and plate tectonics
Tectonic disaster trends since 1960
Active volcanoes - eruptive activity and land formation
Human responses to natural hazards
Managing tectonic hazards - predictions and forecasting
Characteristics of a distinct ecosystem
Biodiversity: flora and fauna
Impacts of climate change on biomes
Economical and social threats to ecosystems
Sustainable management of resources
The water cycle
Fieldwork
GCSE
Characteristics of plate boundaries
Effects of tectonic hazards
Management of hazards
Geomorphic processes, erosion and deposition
Characteristics of ecosystems
Biodiversity: flora and fauna adaptations
Balance and interrelationships of biomes
Impact of climate on ecosystems
Global threats to ecosystems
Water and carbon cycles
Tropical rainforests
Fieldwork
Key Stage 3
Geological timescales and plate tectonics
Rocks, weathering and soils
Weather and climate
Hike The Arenal Volcano Trails
There's no better way to get up close and personal with the Arenal volcano than to walk along its lava trails!
Your group will hike along trails on hills formed by lava during the volcano's 1968 eruption. Not only will you learn more about the volcano and its eruptions, you'll also see some of the incredible wildlife that inhabits the area.
Arenal is Costa Rica's most famous volcano and, until recently, its most active. It now plays an important role in power generation for the country, with geothermal, hydroelectric and wind power all generated here.
Did you know?
Arenal is considered a relatively young volcano, as it's thought to be less than 7,500 years old, and it was also one of the ten most active volcanoes in the world until 2010, when it became dormant.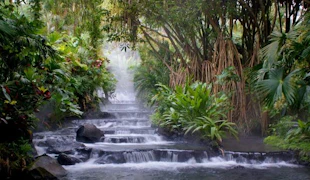 Bathe in the Baldi Hot Springs
Relax and unwind here at the largest hot springs resort in the world, where there are 25 pools of thermal water rich in minerals and healing properties!
Take a dip in one of the hot pools which is said to help eliminate germs and viruses. But remember, your core temperature will rise after nearly 20 minutes in the hot pools, so make sure you cool down regularly with dips in the cold pools, which are usually very close by.
Not everyone enjoys quiet relaxation so, for those who like a little more action, there are some extreme water slides to enjoy too!
Did you know?
Although you'll enjoy spectacular views of the Arenal Volcano, the hot springs are outside the volcano's risk zone, so you really can relax and enjoy your surroundings!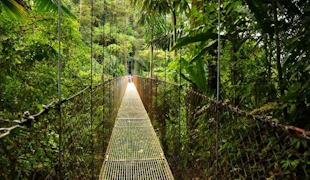 Visit Monteverde Cloud Forest
There's a huge variety of flora and fauna to be found in Monteverde Cloud Forest, where moisture from the low-hanging clouds that sit permanently on the treetops trickles down the trees to sustain life.
Monteverde's Cloud Forest alone makes the trip to Costa Rica worth it – your students will have an unforgettable experience of one of planet Earth's most precious natural habitats.
Climate change could seriously affect Monteverde's Cloud Forest – as temperatures rise, the low-level cloud coverage that produces the life-giving moisture could be reduced, changing the forest's hydrological cycle drastically, perhaps even drying it up altogether.
Did you know?
The Monteverde Cloud Forest is famous for its incredible biodiversity and is home to over 2,500 plant species, 100 mammalian species, 400 species of bird and 120 species of reptilians and amphibians, as well as thousands of species of insects. It's also home to the largest number of orchid species in any one place.