What was your main aim/objective for this trip?
To further students understanding of Nazi occupation of Poland and to see first-hand the horrors of the Holocaust and the impact that this had on the Jewish people living within Krakow.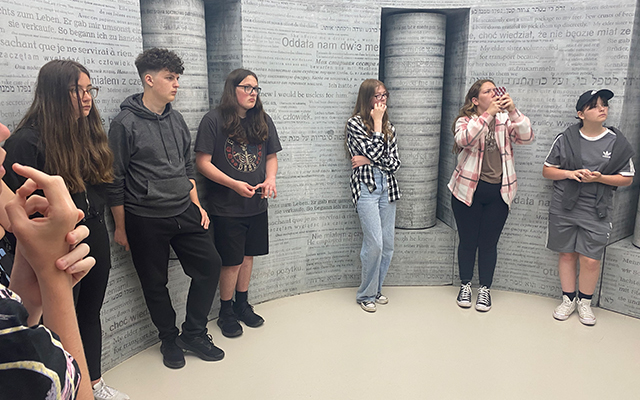 Why did you choose this destination?
It is one of the most well-known locations to visit when looking at Jewish history and the impact of the Nazis and the Holocaust.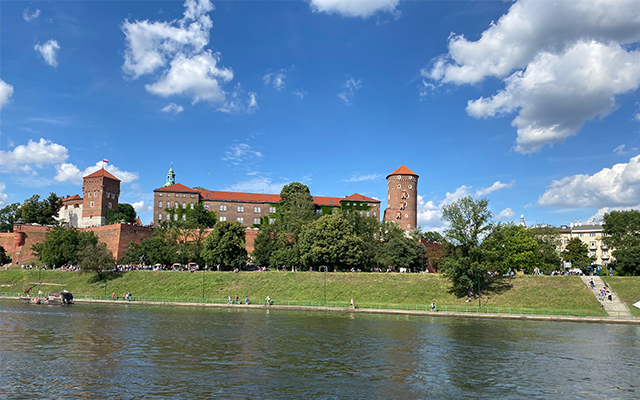 Students had previously learnt about the Holocaust in their history lessons, as well as the impact that this had on the Jewish population within Poland.
On our first day after we had settled into our hotel, we had a walking tour of the Jewish Quarter. Here, we visited the site of the former Jewish Ghetto that the Nazis forcibly moved all Jewish people into in 1939.
Walking on the cobbles of Krakow whilst hearing the stories of the Jewish people that once lived there made it such an immersive experience and one that the students thoroughly enjoyed hearing about.
On our second day we visited Auschwitz, a trip which we were all looking forward to but did not really know what to expect. Our group of 32 was split into two smaller groups and were each given our own tour guide. First, we visited Auschwitz I which was originally a Polish army base and was later used by the Nazis to imprison political prisoners.
We also visited Auschwitz-Birkenau, the death camp which was used to murder thousands of Jewish and other groups of people that the Nazis considered their opponents.
Students heard and saw first-hand the devastation which the Nazis brought to Poland. Students and staff found it harrowing to walk alongside the train tracks which had brought thousands of people to the last place they ever visited. It made us appreciate the freedoms which we have in our lives today and feel lucky that we were able to leave the place that so many were unable to.
Our tour guides were phenomenal and so knowledgeable on the history of Jewish people in Krakow and the wider impact that the Holocaust had.
On our third and final day we visited the Schindler's Factory Museum for the 'Krakow Under Nazi Occupation 1939-1945' exhibition. The exhibition shows a reconstructed Krakow city which allows visitors to walk the cobbled streets and get a feel for war-time Krakow. As we wandered the various rooms we learnt about Krakow's Polish and Jewish inhabitants during the Second World War and how the effects of Hitler's Nazi regime changed Krakow forever.
Due to our flight not being until very late in the evening we had already pre-booked some other activities to keep students occupied. We visited Cosmic-Crazy golf where students completed a 9-hole crazy golf course in the dark, as well as a boat tour of the Vistula river which runs through the centre of Krakow.
Why did you choose these visits and activities?
My only stipulation to Halsbury was that we wanted to visit Auschwitz - I left the rest of the itinerary up to them and went on their recommendation.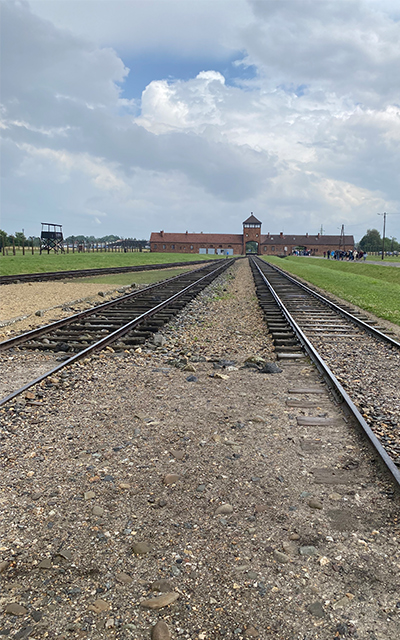 What will be your lasting memories of this trip?
I will never forget the faces from the photographs in Auschwitz that were taken of the men and women prior to them being killed - when you looked into their eyes you could tell that they knew that this was the end for them.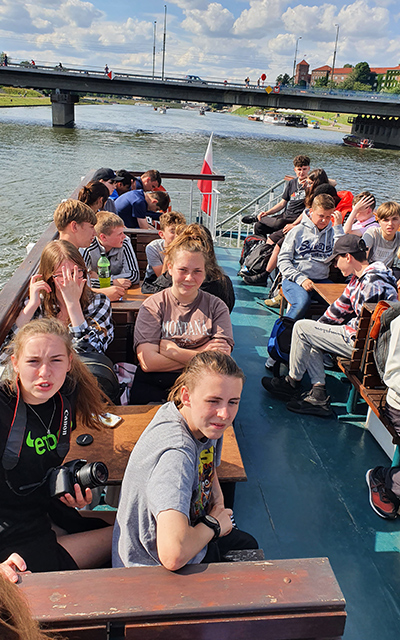 Also, the stories of the ordinary men and women that we heard about on our walking tour, in Auschwitz and at Schindler's Factory museum. It made us appreciate that these people were ordinary human beings who were persecuted through no fault of their own.
It was also great to see how much the students enjoyed being on a residential trip. It was the first opportunity they have had since joining secondary school to go on a residential trip and although we were only there for a short time it was lovely to see the students flourish.
Students were able to experience a residential trip for the first time and increase their cultural capital.
Students thoroughly enjoyed learning about the personal experiences of the Jewish and Polish people and were shocked that the Jewish population had sadly never returned to what it was pre-WW2.
Students were also able to draw links between the movement of Jewish people and the present-day Ukrainian refugees.
Lots of students commented on how seeing and being in the place of the history they have learnt about made it more life-like and easier for them to understand.
Why did you choose Halsbury for this trip?
I got quotes from a few educational trip suppliers but Halsbury was the most competitive price wise and Gail, our travel advisor that dealt with our initial enquiry was fantastic, so helpful and nothing was too much bother (even when I changed our dates for about the 10th time).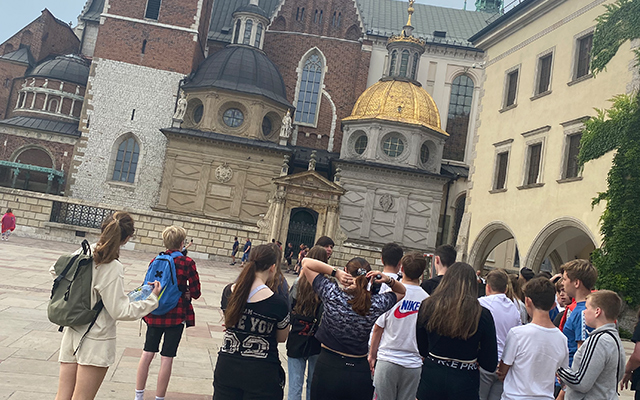 Were there any guarantees that Halsbury were offering that made it easier for you to get senior leadership and/or parents on board?
The Covid Guarantee and the travel insurance with Covid cover definitely helped with getting our trip approved.
We belong to a large multi-academy trust who would not allow any international trips until after Easter 2022 due to the ongoing complexities that Covid was presenting.
Having this cover was a great safety net for us as a school and for parents knowing that if the trip was cancelled due to Covid then their money would not be lost.
Absolutely fantastic - we took Year 9 students and this was the first opportunity they had been given since being at secondary school to go on a residential trip due to Covid disruptions in their previous years.
How would you describe the experience of working with Halsbury on this trip?
FANTASTIC - from start to finish it was a seamless process. Planning a residential trip can often be very time consuming and stressful but not with Halsbury. Nothing was too much trouble, every member of staff that I dealt with at Halsbury was friendly and so accommodating.
Would you recommend Halsbury to your friends and colleagues?
100% yes! Everyone at Halsbury is so accommodating and friendly. They know exactly what they are talking about and are prepared for every situation.
James, our itinerary coordinator was phenomenal - he made the whole process after we had booked, right up until after the trip seamless and easy. He was on-hand all the time to answer any of mine or parents' queries and made the whole process fantastic.
Do you have any tips for other teachers planning their first trips since Covid?
Try not to let Covid put you off - in the planning of my trip Covid did cause some early issues in that at the time of booking all visitors to Poland needed to be vaccinated etc.
However, as the world slowly goes back to normal, the importance of taking students on trips and increasing their cultural capital definitely outweighs the inconveniences of preparing for travel with Covid.
Ready to start planning your school trip to Krakow?
Please don't hesitate to contact us for further information or to request a tailor-made quote.