Have you decided when you want to go on your next school rugby tour , but are now struggling to decide on the best destination?
Then we're here to help!
Here are our top tips for school rugby tours during February half term, Easter and summer!
Want to travel during February half term?
7 days/4 nights from £520pp
•Training session with Biarritz Olympique or Aviron Bayonnais youth academy coaches
•Opportunity to see Biarritz Olympique or Aviron Bayonnais in action
•Plus, try your hand at water and adventure sports!
While it will likely still be grey and freezing in the UK, in the South of France the weather will be starting to warm up. This is the heartland of French rugby and will provide your students the opportunity to train under professional coaches from Biarritz Olympique or Aviron Bayonnais, as well as see one of those clubs in action!
You'll test your skills against local opposition of asimilar standard too, providing your players with the opportunity to build on their competitive experience and confidence. And your sporty group can even have a go at some of the exciting water and adventure sports available in the area, such as surfing, white water rafting or canyoning!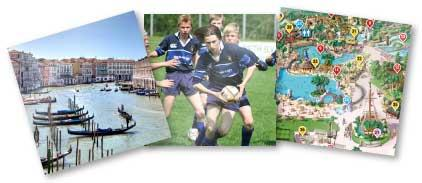 Want to travel during Easter?
We recommend…Venice !
5 days/4 nights from £481pp
•Heartland of Italian rugby
•Combine rugby with the rich history and culture of Venice
•2 fixtures against local teams of a similar standard
Easter is a really magical time in Italy, especially in the colourful city of Venice . The weather is much more reliable than at home and, with the season running from September to May, there's also still plenty of rugby to soak up.
Rugby is huge in this part of northern Italy, which means you'll find great local opposition here, who will not only challenge your team, but will also welcome them warmly, as is the Italian way.
Want to travel during the summer holidays?
We recommend…Japan !
10 days/8 nights from £2,500pp
•Developing rugby nation
•Hosts of 2019 Rugby World Cup
•Great mix of friendly fixtures and cultural activities
Make the most of the summer holidays by taking a longer tour to somewhere a little more exotic…such as Japan! Having participated in every Rugby World Cup to date, the Tier 2 nation will host the next competition in 2019.
This is a fantastic opportunity to be part of a really exciting time in Japanese rugby . You'll take on local teams of a similar standard who'll not only provide your players with a good challenge, but also great post-match hospitality – a chance for your players to interact with their Japanese counterparts.
Your students will also have the once-in-a-lifetime opportunity to delve deeper into the Japanese culture, with Taiko drumming lessons, sumo stable visits, Tatedo sword fighting and Kyudo archery all a possibility!
Need a tailor-made quote for one of these destinations? Or have some questions? Please don't hesitate to contact us !
Article posted on: May 17, 2017