We asked Kate, Head of Sports Tours, to tell us which destinations she thinks will be most popular in 2023/24.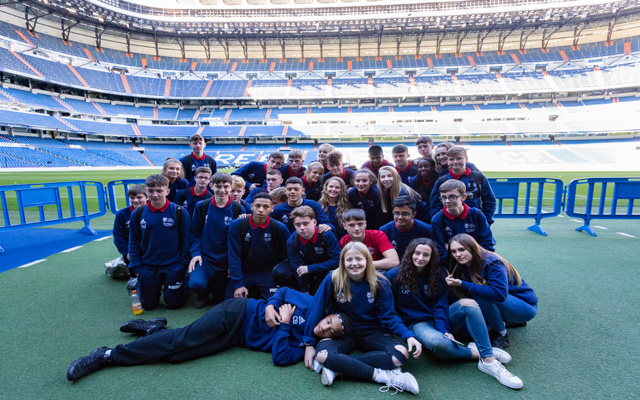 Our pro-training tours are extremely popular with school groups because they offer students the opportunity to experience life as professional sportspeople!
Real Madrid is our most popular pro-training football tour and it's not hard to understand why. Real Madrid is one of the richest, most widely supported football clubs in the world.
The club is of three founding members of La Liga that have never been relegated (the other two being FC Barcelona and Athletic Bilbao) and has won 68 domestic trophies, including 35 La Liga titles – more than any other club.
Real Madrid has also won a record 21 trophies in European football and was recognised as the FIFA Club of the 20th Century. It has attracted some of the world's best footballers, from Alfredo Di Stéfano and Ferenc Puskàs to Galácticos like Zinedine Zidane and David Beckham.
On a school sports tour to Real Madrid, your students will have the incredible opportunity to make use of the club's world-class training facility, Real Madrid City at Valdebebas.
The training facility is huge, covering 1,200,000m² - that's 40 times bigger than the club's stadium, the Santiago Bernabéu.
Within the main building you'll find gyms, classrooms, dressing rooms, conference rooms, a hydrotherapy area and a medical centre – it even has its own press area!
Outside, there are 10 grass and astroturf pitches with stands to accommodate more than 11,000 spectators.
It is here, at this incredible training facility, where your students will enjoy training sessions with Real Madrid youth coaches. These sessions will be tailored to the strengths and areas of development for your group.
We'll then also arrange some friendly fixtures with local opposition, to give your students the opportunity to put their newly-honed skills to the test.
In addition, these friendly fixtures will introduce your students to different styles of play, much like when the England team play international games and have to adapt to the different styles of their opponents.
When you're not focusing on improving your game and testing your skills, you'll also have the opportunity to tour the Bernabéu, for further inspiration. You could even choose to add La Liga match tickets, subject to match schedules and availability.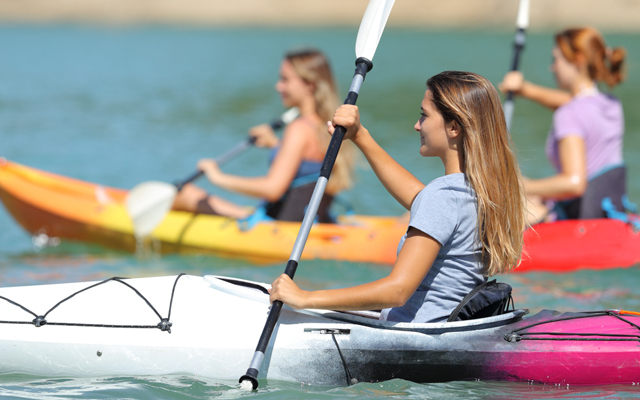 The great thing about watersports is that they can inspire all students, not just the conventionally 'sporty' ones.
Most of your students won't have had the opportunity to try watersports before, so everyone will be starting at beginner level and will need to learn a variety of skills that are different to those required when playing more traditional school sports.
Watersports are also fantastic for teambuilding skills and helping students and teachers form stronger bonds that can then lead to better learning environments once you get back to school.
This can help those who are anxious about participating in school sports feel more comfortable with their peers and teachers.
Watersports tours also show students that there is a huge variety of sports and activities to explore.
It could also encourage a passion for the Great Outdoors. And both of these could help to inspire students to live healthier, more balanced lives.
We offer watersports tours in a variety of locations, both here in the UK and in Europe.
If you want to stay in the UK, you could head to the Lake District, the Olympic venue at Lee Valley or the National Water Sports Centre at Holme Pierrepont near Nottingham.
If you fancy slightly warmer waters, we also offer watersports tours to the Costa Brava and the South of France.
Wherever you choose to go, you'll be able to enjoy a range of watersports activities, such as stand up paddle boarding, canoeing, sailing and windsurfing. And we're certain that it will be a tour that leaves your students with lifelong memories!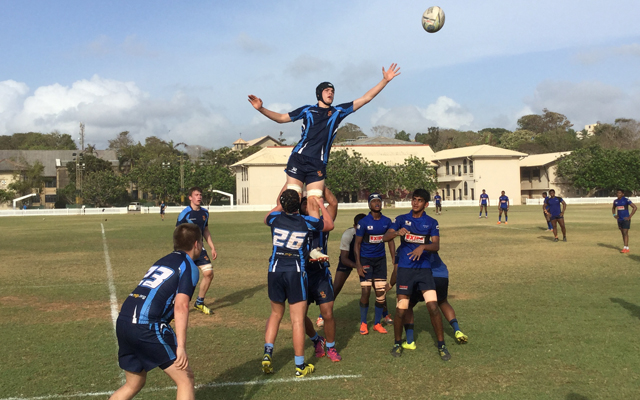 Sri Lanka offers the opportunity to make your school sports tour a once-in-a-lifetime experience for your students – and the accompanying staff!
Sri Lanka is a country that boasts incredible wildlife, spectacular beaches, a rich culture and welcoming people. And the sporting opportunities here are fantastic for rugby, netball, football and cricket, as well as multisports groups.
Despite its small size, Sri Lanka is home to an astonishing abundance of wildlife. One of our groups' favourite activities is a boat safari along the River Madu, where you'll explore the beautiful mangroves and islands which are home to monitor lizards, crocodiles, monkeys and kingfishers.
We can also arrange for you to visit an elephant sanctuary and a turtle hatchery, to find out more about the conservation of these important species.
Sri Lankan beaches are generally exquisite. The country is famous for its golden sandy beaches and crystal-clear water – and because Sri Lanka is a relatively small country, you're never too far from a slice of tropical paradise!
You'll have plenty of opportunities to discover the culture here too. Most groups choose to start their tour in Colombo, the country's largest city. An important trading post for over 2,000 years, Colombo is full of historic sites that tell its story – and the best way to explore the city is with a guided tour.
Later in the tour, you'll transfer to Kandy – the last capital of the ancient kings' era. The city is surrounded by tea plantations and is most famous as the home of the Temple of the Tooth Relic, one of the most sacred places of worship for Buddhists.
Throughout your school sports tour to Sri Lanka, you'll be welcomed by the warm and
friendly locals. Because of its colonial past, you'll find that English is still widely spoken in Sri Lanka, and when you play local opposition, the local team will be very keen to socialise with your students to share the local culture and their passion for sport.
Another reason why Sri Lanka is such a good choice for a school sports tour is the great accommodation options. From historic city centre hotels to luxurious beachfront resorts, there will certainly be an option to suit your group's requirements.
Ready to start planning your next school sports tour?
Please don't hesitate to contact us for further information or to request a tailor-made quote.