In August 2017, Brighton College's
rugby

players headed to

Swansea University

for a pre season training camp. We caught up with Head of Rugby Nick Buoy towards the end of the tour, to find out why they chose Swansea and what they'd been getting up to:

"We are currently on our pre-season camp at Swansea University and we're here for five days in mid-August.

The reason we chose Swansea University was because we have a lot of faith in what Halsbury Travel do. We've been with them for 11 years now and they recommended it.

The All Blacks were here for the last World Cup, along with Fiji, and the surface is amazing, the people are absolutely brilliant, and we've just been really well looked after.

The aim of the tour is to condition the boys physically and mentally, and to bring them close together as a team, and that sort of social cohesion. The ethos of the club is that we make boys brilliant young men at the end of this, and we're actually trying to use rugby to do that and help them achieve their potential in life.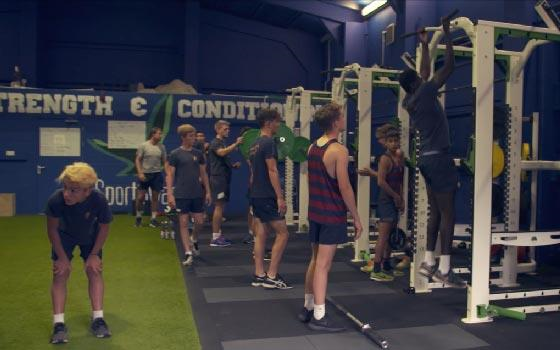 We've got lots going on. We've got Taekwondo and combat skills in the dojo, we have swimming and recovery sessions in the pool, we do track sessions, learning how to run and agility on the track. Obviously, on the grass we do a lot of rugby work, but we also do other work in the classroom – so, learning about nutrition, sports psychology, the new laws of the game, and try to make it as educational as possible.
It's absolutely brilliant for students to get away and bridge that gap between moving out of the family home into university. They do five days here at a university, they get a feel for being in halls, being pro-active, being self-organised and, actually, as part of their development and moving them forwards to adult life, it's a really good experience.
We've been with Halsbury for 11 years now. I'd highly recommend them, they've been really good to us. We've got a really good working relationship. They will tailor around what we feel the boys' needs are and what will suit them best to achieve their potential, which we really appreciate.
I think the lasting memories of the tour will hopefully be that they've really enjoyed themselves, really had fun and spent time together. But we hope they've just learned lots, improved themselves as people, and that they're growing into young men."
One of the students was also kind enough to take a moment to explain to us what he thought of the tour:
"This is actually my first time in Swansea . I went to Bordeaux last year – we do a change over, so we do Bordeaux one year and then we go to Swansea the year after. And that sort of tapers how we play, we like to adapt to different conditions.
To have a week away from everything else, to just focus on us and everyone getting together is really important for that team cohesion, because without that you're not really a team, you're just a side.
The scheduling is really good. It's always really clear what we're doing day in, day out – everything's organised. If there's a problem, it gets solved really easily, we know what to do, so in terms of organisation, everything's kept on top of and really well run."
We hope this gives you a better idea of what a pre season tour is really like. If you'd like to arrange a similar experience for your team, please don't hesitate to contact us for further information, or to request a tailor-made quote .