Find out what you should be looking out for.
So, you've decided to arrange a school ski trip for your students, but how do you choose which school ski company to book with?
Ensuring that you book with the right school ski tour operator is as important as the destination and package, and can have a real impact on your group's skiing experience. Here's our guide to choosing the right school travel company for your ski trip.
Make Sure You Are Financially Protected

Nobody wants to think about things going wrong, but when arranging a school ski trip it is imperative that you ensure that you are financially protected. The first step is to book with a reliable school ski tour operator, as they will be bound by the Package Travel Regulations (1992). This requires the school ski company to provide financial security in the form of insurance, a bond or a trust fund; protection that you will not normally have if arranging the tour independently.
Halsbury Ski, as part of Halsbury Travel Ltd., is a member of the Association of British Travel Agents (ABTA): our ABTA number is V2645. As such, we are bound by the association's strict Code of Conduct, which requires all members to provide only the very highest quality customer service, treating customers fairly.
We also hold an Air Travel Organiser's Licence (ATOL), issued by the Civil Aviation Authority. For groups travelling by air, this provides further reassurance that, should the company fail, you would not be left stranded abroad or out of pocket. Our ATOL number is 5079.
Choose a Specialist School Ski Trip Company

Whilst many tour operators can arrange group ski trips, school groups have very specialist requirements that are best dealt with by a specialist in school travel. For example, there are numerous safeguarding and health and safety issues relating to school groups that do not tend to apply to other groups.
As the school ski tours division of leading school travel company, Halsbury Ski was founded specifically to provide high-quality ski trips designed to take the stress out of the process for group leaders. We understand all the hoops that you will need to jump through to arrange your trip and will be with you every step of the way.
We are an Assured Member of the School Travel Forum (STF). All Assured Members must comply with a rigorous code of practice and must also be members of financial protection schemes approved by the STF. It is also compulsory for Assured Members to provide 24/7 support and have both a Safety Management System and major incident procedure in place. Our membership of the STF is evidence of our commitment to best practice in health and safety in the field of school travel.
In addition, we also hold the Learning Outside the Classroom (LOtC) Quality Badge, which identifies school travel companies that provide good educational provision, as well as effective risk management. This award, therefore, recognises that we understand the requirements of school ski groups and tailor-make our tours to suit the individual needs of each group.
Look For Experience and Informed, Honest Advice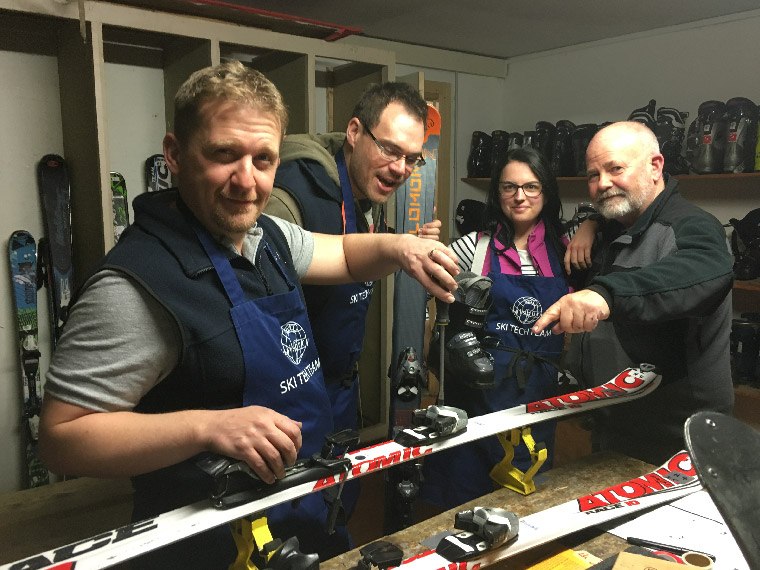 As a teacher arranging a school ski trip, you will likely be reliant on the advice provided by your chosen school ski trip company with regards to details including the accommodation, transport and even the destination. In order to ensure that you receive the most well-informed advice, make sure you look for a well-established school ski company whose staff knows the resorts it offers well.
Halsbury Ski has been providing school ski trips since 1986 and was originally founded by a former teacher, Keith Sharkey, who had arranged several ski trips during his teaching career. Keith understood the pressures on teachers and wanted to create a school ski trip company that would take the hassle out of the process.
With this in mind, we pride ourselves on using our vast experience of arranging school ski trips to give honest advice intended to provide groups with the very best school ski trip experience. In addition, our Ski Specialists are all keen skiers themselves and between them have visited and skied in the vast majority of the resorts that we offer.