A geography school trip to the USA's West Coast offers the unforgettable opportunity to explore the Grand Canyon, Death Valley, Yosemite National Park and San Francisco!
Spectacular canyons, volcanic activity, diverse ecosystems, magnificent rivers and sprawling coastal urbanisation are all here for you to explore, giving your students plenty of opportunity to see geography in action.
Combine your trip with some amazing sightseeing options, such as the Golden Gate Bridge, all of which will highlight the human impact on the landscape and the methods employed to try to overcome the environmental challenges in the area.
Suggested Itinerary (10 days, 8 nights)
Day
Morning Summary
Afternoon Summary
Evening Summary
1

Flight to Phoenix

On arrival transfer to your hotel

Evening mealat accommodation

2

Travel to the Grand Canyon

Walk along the South Rim to view the millions of years of wind and water erosion that have created the Canyon

Continue to Tuba City

Evening meal and overnight in Tuba City

3

Travel to Monument Valley to view the desert plain with its gigantic sandstone monolithic structures

Lunch of Navajo specialities followed by a jeep tour with Navajo Indians

Arrive Page late afternoon, making stops at Lake Powell and Glen Canyon Dam

Western meal with live country music show and overnight in Kanab

4

Beautiful drive crossing the plains to Bryce Canyon to view its pink cliffs

Continue to Las Vegas

Buffetmeal and overnight in Las Vegas

5

Travel to the Valley of Fire offering superb multicoloured desert landscapes, strangely eroded rocks and 150 million year old sand dunes

Continue to Lake Mead and visit the Hoover Dam on the famous Colorado River

Return to Las Vegas

Visit the Borax Museum displaying the history of mining in Death Valley

Continue to Mammoth Lakes

6

Leave Las Vegas for Death Valley, approx. 320 ft below sea level

Discover Badwater Point, the lowest spot in the valley, Furnace Creek and Stovepipe Sand Dunes

Visit the Borax Museum displaying the history of mining in Death Valley

Continue to Mammoth Lakes

Meal and overnight at Mammoth Lakes

7

Drive to Yosemite National Park, a clear contrast to the landscape previously visited

Discover Half Dome, Yosemite Valley, Bridalveil Falls and Yosemite Falls

Drive down from the mountains across the fertile agricultural lands of Central Valley to San Francisco

Meal and overnight inSan Francisco

8

Take a guided tour of San Francisco including the Bay, Chinatown, Union Square and more

Visit Golden Gate Park and the California Academy of Science with its excellent Earthquake Exhibition

Photo stop at the Golden Gate Bridge

Fisherman's Wharf for meal and overnight in San Francisco

9

Morning at your leisure for a little shopping

Transfer to the airport for your return flight

Return flight to the UK

10

Arrive in the UK
10 days, 8 nights Price from £1,799 pp
8 nights' half-board accommodation
Airport taxes and passenger duty at current rates
Airport transfers in resort
ATOL protected return flights from the UK
Comprehensive travel and medical insurance
Detailed information pack
Free staff place ratio 1:10
Guide available throughout the tour
Itinerary planning service
National Park and California Acadamy of Science entry fees
Vamoos travel app - giving you access to all your trip documents on your phone or tablet
VAT at current rates to tour operators
A-Level
Water and carbon cycles
Characteristics of a distinct ecosystem
Biodiversity: flora and fauna adaptations
Hot desert systems and landscapes
Minerals and rocks
Fossils and time
Geomorphic processes
Geomorphology
Geohazards - seismic activity
Glacial landscapes beyond the UK
Glacial erosion, transportation and deposition
Case study of a river catchment
Fieldwork
GCSE
Characteristics of ecosystems
Biodiversity: flora and fauna adaptations
Balance and interrelationships of biomes
Water and carbon cycles
Features of drylands and deserts
Physical processes affecting land formation
Erosion, transportation and deposition
Fluvial landforms
Fieldwork - investigating physical environments
Characteristics of plate boundaries
Effects of tectonic hazards
Key Stage 3
Geological timescales and plate tectonics
Rocks, weathering and soils
Hydrology and coasts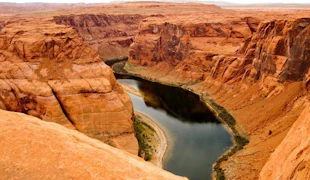 Explore the Grand Canyon
Possibly the most famous natural attraction in the US, the Grand Canyon is possibly one of the best places in the world to learn about the effects of erosion.
Here, two billion years of the Earth's geological history is laid bare, thanks to the erosive power of the Colorado River and its tributaries.
This is a truly spectacular visit that will impress upon your students how the study of geography can help them to understand the incredible world around them.
Did you know?
The Grand Canyon is huge! It measures 277 miles in length and at its stretches 18 miles across at its widest point!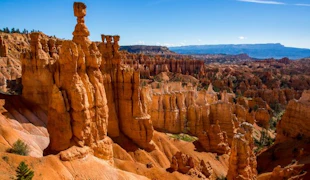 Explore Bryce Canyon
Bryce Canyon is a collection of natural amphitheatres and is most famous for its spectacular array of hoodoos!
Despite its name, Bryce Canyon isn't actually a canyon, because it wasn't formed by the erosion caused by a central stream. It was, in fact, carved out by headward erosion.
Of course, this means it's the perfect place to learn more about different types of erosion and their effects on the landscape, particularly if you combine your visit to Bryce Canyon with a stop at the Grand Canyon.
Did you know?
Bryce Canyon is named after Mormon pioneer Ebenezer Bryce. It's said that he stumbled into the main amphitheatre of the canyon when looking for lost cattle – after that, the locals referred to it as 'Bryce's Canyon' and the name stuck!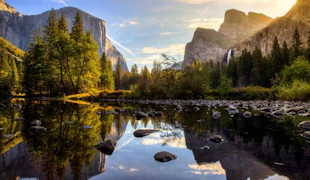 Explore Yosemite National Park
Hike and study the landscape of Yosemite National Park with a choice of three areas to focus on – life sciences and ecology, watershed studies, earth science and geology, cultural history or current environmental issues.
Located in the western Sierra Nevada and designated a UNESCO World Heritage Site in 1984, Yosemite National Park is world famous for its spectacular scenery including waterfalls, giant sequoias, mountains, glaciers and meadows.
Yosemite was key to the development of the USA's national park system, thanks to the movement to protect it from development which led to President Abraham Lincoln signing the Yosemite Grant in 1864.
Did you know?
Almost 95% of Yosemite National Park is designated wilderness and boasts an incredible biological diversity – the park is home to over 250 species of vertebrates.