This unique geography school trip to San Francisco, Yosemite and the Grand Canyon offers your students the chance to get close to nature in a fun and active way!
Start your trip in San Francisco, where your students will consider how it's affected by its location on the San Andreas fault. Then visit the award-winning California Academy of Science and their Earthquake exhibit, where you can learn all about aspects of earthquakes on a local and international scale.
Then spend 4 nights in Yosemite National Park, where your students will enjoy a real geography adventure! Continue on towards Las Vegas, making a brief stop in Death Valley before ending your trip with the spectacle that is the Grand Canyon.
Suggested Itinerary (11 days, 9 nights)
Day
Morning Summary
Afternoon Summary
Evening Summary
1

Flight to San Francisco

On arrival transfer to your hotel for check in

Free time

2

Visit the California Academy of Science - Rainforest Exhibit

Take in the view of the Golden Gate Bridge

 Free time

3

Optional visit to Alcatraz

Visit to Fisherman's Wharf

Free time

4

Depart San Francisco for Yosemite National Park

Arrive at Yosemite and move in to your NatureBridge heated tent camp at Curry Village

Dinner and evening programme

5

Breakfast in camp and depart on hike

Lunch on trail

Today focus on "Earth Science & Geology"

Dinner and evening programme

6

Breakfast in camp and depart on hike

Lunch on trail

Today focus on "Watershed Studies"

Dinner and evening programme

7

Breakfast in camp and depart on hike

Lunch on trail

Today focus on "Current Environmental Issues"

Dinner and evening programme

8

Breakfast at camp before departing from Yosemite for Las Vegas

Stop en-route to visit Death Valley - the hottest, driest and lowest place in North America

Arrive in Las Vegas, evening at leisure

9

Day trip to the Grand Canyon and Hoover Dam (entry optional)

Free time

10

Free time to explore Las Vegas

Transfer to the airport for flight home

Overnight flight

11

Arrival in the UK
11 days, 9 nights Price from £1,799 pp
4-day NatureBridge Adventure field trip programme (full board)
9 nights' bed and breakfast accommodation
Airport taxes and passenger duty at current rates
Airport transfers in resort
ATOL protected return flights from the UK
Comprehensive travel and medical insurance
Day trip to the Grand Canyon by private coach
Detailed information pack
Entry to the California Academy of Science
Free staff place ratio 1:10
Itinerary planning service
National Park entrance fees
Private coach transfers between destinations
Vamoos travel app - giving you access to all your trip documents on your phone or tablet
VAT at current rates to tour operators
A-Level
Water and carbon cycles
Characteristics of a distinct ecosystem
Biodiversity: flora and fauna adaptations
Hot desert systems and landscapes
Minerals and rocks
Fossils and time
Geomorphic processes
Geomorphology
Geohazards - seismic activity
Glacial landscapes beyond the UK
Glacial erosion, transportation and deposition
Case study of a river catchment
Fieldwork
GCSE
Characteristics of ecosystems
Biodiversity: flora and fauna adaptations
Balance and interrelationships of biomes
Water and carbon cycles
Features of drylands and deserts
Physical processes affecting land formation
Erosion, transportation and deposition
Fluvial landforms
Fieldwork - investigating physical environments
Characteristics of plate boundaries
Effects of tectonic hazards
Key Stage 3
Geological timescales and plate tectonics
Rocks, weathering and soils
Hydrology and coasts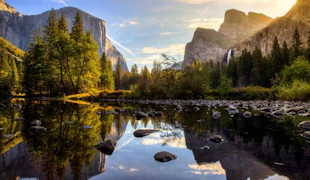 Explore Yosemite National Park
Hike and study the landscape of Yosemite National Park with a choice of three areas to focus on – life sciences and ecology, watershed studies, earth science and geology, cultural history or current environmental issues.
Located in the western Sierra Nevada and designated a UNESCO World Heritage Site in 1984, Yosemite National Park is world famous for its spectacular scenery including waterfalls, giant sequoias, mountains, glaciers and meadows.
Yosemite was key to the development of the USA's national park system, thanks to the movement to protect it from development which led to President Abraham Lincoln signing the Yosemite Grant in 1864.
Did you know?
Almost 95% of Yosemite National Park is designated wilderness and boasts an incredible biological diversity – the park is home to over 250 species of vertebrates.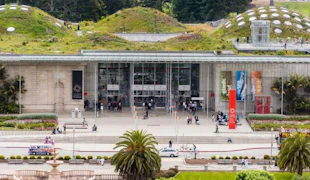 Visit California Academy of Science
The California Academy of Science is the greenest museum in the world and houses a world-class aquarium, planetarium and natural history museum!
It's also one of the largest natural history museums in the world, with over 46 million specimens in its collection.
Founded in 1853, the Academy is particularly notable for championing the involvement of female scientists. In fact, in its first year of existence it passed a resolution approving of female participation in every department of natural science and inviting their cooperation.
Did you know?
The Academy is topped by a living green roof of 1.7 million plants, all of which are native to California. And its design was inspired by the seven major hills of San Francisco!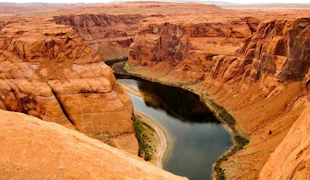 Visit the Grand Canyon
Possibly the most famous natural attraction in the US, the Grand Canyon is possibly one of the best places in the world to learn about the effects of erosion.
Here, two billion years of the Earth's geological history is laid bare, thanks to the erosive power of the Colorado River and its tributaries.
This is a truly spectacular visit that will impress upon your students how the study of geography can help them to understand the incredible world around them.
Did you know?
The Grand Canyon is huge! It measures 277 miles in length and at its stretches 18 miles across at its widest point!