A geography school trip to Morocco is an excellent opportunity to experience the magnificent scenery and hospitality of the Maghreb!
With its spectacular landscape, ranging from mountains in the north to desert in the south, as well as an expansive coastline, Morocco is a geographically diverse country. Processes taking place of the course of millions of years have shaped the landscape, from the High Atlas Mountains and the spectacular Todra Gorges, to the ever-changing sands of the Sahara Desert.
Combine the geography and geology with the human influence and explore the wonderful city of Marrakesh with its mosques, souks and palaces. Plus, make sure you don't miss the opportunity to enjoy an authentic taste of the local culture with a traditional meal and show!
Suggested Itinerary (4 days, 3 nights)
Day
Morning Summary
Afternoon Summary
Evening Summary
1

Flight from UK to Marrakesh Menara Airport, on arrival transfer to hotel

Group to walk to the Medina, Djemaa El Fna and the Souks, followed by an apothecary visit (dependent on time of arrival)

Evening meal at hotel

2

Full day excursion to Amizmiz in the lower slopes of the High Atlas, with a stop at the Lalla Takerkoust reservoir to look at large scale water management.

Continue to the Amizmiz countryside to see all aspects of traditional life.

Return to hotel in Marrakesh for traditional evening meal

3

Full-day excursion to Douar Oulad Elguern - group will be welcomed with tea and breakfast before participating in various daily village activities.

Return to Marrakesh for evening meal

4

Transfer to Marrakesh Menara Airport for return flight to the UK
4 days, 3 nights Price from £575 pp
3 nights' full-board accommodation
Airport taxes and passenger duty at current rates
All ground transportation and excursions in resort
ATOL protected return flights from the UK
Coach transfers in resort
Comprehensive travel and medical insurance
Detailed information pack
Free staff place ratio 1:10
Itinerary planning service
Vamoos travel app - giving you access to all your trip documents on your phone or tablet
VAT at current rates to tour operators
A-Level
Minerals and rocks
Geomorphic processes
Geochronology
Water and carbon cycles
Characteristics of a distinct ecosystem
Hot desert systems and landscapes
Biodiversity: flora and fauna
Fieldwork
Earth structure and plate tectonics
Water security
GCSE
Characteristics of ecosystems
Biodiversity: flora and fauna adaptations
Water and carbon cycles
Features of drylands and deserts
Physical processes affecting land formation
Erosion, transportation and deposition
Fluvial landforms
Fieldwork - investigating physical environments
Characteristics of plate boundaries
Plate tectonics theory
Water security
Resource management
Key Stage 3
Geological timescales and plate tectonics
Rocks, weathering and soils
Weather and climate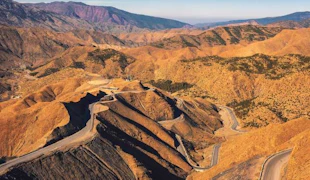 Visit the Atlas Mountains
The Atlas Mountains are actually a series of mountain ranges which stretch across more than 2,000km of North Africa, through Morocco, Algeria and Tunisia. The mountain range acts as a barrier between the mild Mediterranean climate and the harsh Sahara.
The Atlas Mountains are commonly divided into two main sections – the Tell Atlas, which is the southern section and receives enough rain to grow lush forests, and the southern Saharan Atlas.
The mountains have acted as a barrier, protecting the Berber people from outside influences and allowing them to preserve their own languages, culture and traditions, although most have embraced Islam.
Did you know?
The highest point in the Atlas Mountains is Toukbal in southwestern Morocco, which reaches up to 4,165m.
Visit Ouarzazate
Film buffs and Game of Thrones fans may notice that Ourzazate looks familiar – the town is a popular filming location and has featured in Lawrence of Arabia, The Mummy, Gladiator and Salmon Fishing in the Yemen.
Just to the west of the city is the kasbah town of Aït Benhaddou, which was once on the caravan route between the Sahara and Marrakesh. The town is a UNESCO World Heritage Site and well worth a visit for those interested in the history of this region.
And still today, the city is a popular base for excursions out into the Sahara Desert. There are dunes, palm groves, rose gardens oases, valleys and gorges all waiting to be explored!
Did you know?
There are two major movie studios here – Atlas Studios is the world's largest film studio by acreage, showing just how important this town has become in the film industry!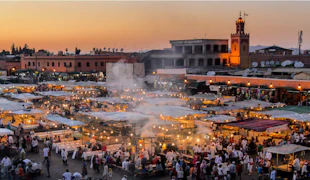 Visit Djemaa El Fna
Djemaa El Fna is a large market square in Marrakesh's medina and is one of the best places in the city to soak up the atmosphere and experience the local culture.
The square is home to storytellers, fortune tellers, poets, singers and dancers. Although it's a huge draw among tourists, it's also still an important gathering place for locals who come to enjoy the entertainment and culture on offer.
And at night this is a great place to enjoy some traditional Moroccan food, with live entertainment from Berber and Gnawa musicians and dancers.
Did you know?
Djemaa El Fna and its importance as a place for cultural exchange and artistic heritage was the inspiration behind UNESCO's Proclamation of Masterpieces of the Oral and Intangible Heritage of Humanity – and it became the first place to gain Masterpiece status.