If your question isn't on here, please contact us.
About your quotation
Although your quote gives me 1 free member of staff per 10 paying children (or 1 per 8 for trips involving more than one overnight stay), I would like to take more staff than this. What should I do?
If you make us aware of this at the time you enquire, we will be more than happy to adjust the price accordingly.
Does the price you quote include a rep or courier?
Not normally. We will arrange a full itinerary and provide you with emergency contact details for all visits/accommodation, as well as our Transport Manager and Directors and, therefore, we usually find that a rep or courier is not required. If we have not included a rep for your trip and you would like to have a rep or courier with you for the duration, please let us know and we will be pleased to quote you for this. We are also able to arrange local guides for specific areas, such as the battlefields, if required.
Does the price you quote include admission fees?
We can include admission fees if specifically requested but do not normally do so as standard (except for a small number of attractions, such as Disneyland). The itinerary that you will receive will clearly state which admission fees are included (if any). If you do wish to include the cost of admission fees, please ensure that you discuss this with the member of staff who is preparing your quote and they will be very pleased to arrange this for you.
We have our own insurance. Will you give me a discount if I don't take yours?
All our quotes include travel insurance as standard. Unfortunately, we cannot offer a discount if you already have insurance.
View our insurance policy here
Can we use the Pupil Premium to reduce the cost of our trip?
This is certainly possible, although it is at the discretion of your school. Please see the government's guide to Pupil Premium for further information.
About your booking
How much do we need as a deposit for the trip?
For day trips, we usually require a deposit of £10 per paying passenger (or £20 if visiting Disneyland Paris).
For longer trips, it will vary, but you will normally pay an initial deposit, followed by a second deposit after 6 weeks. Please check the amount required on your quote before advising students and parents.
We want to take a day trip in 6 weeks time (short notice). Is this possible?
We normally advise that you book at least 4 weeks in advance, as it can take that long to complete the necessary administration. We are flexible about final payment dates, but we really do require full payment at least 2 weeks before travel for last-minute trips.
If we get 2 coach-loads can we have a discount?
A discount is normally applied for taking 80 paying passengers. Please contact us for further information.
Change in passenger number on coach tours
We've got 49 passengers, can we take some more?
This depends on the time of year and the number of additional passengers. Please contact us for advice, as this may involve a change in coach size, which may be difficult at busy times.
What happens if we don't get 44 passengers?
If your passenger numbers are different from the numbers you have been quoted for, you will need an updated quote showing the new prices. Please note that, on all coach tours, the price will increase significantly if there are less than 25 paying passengers.
Passports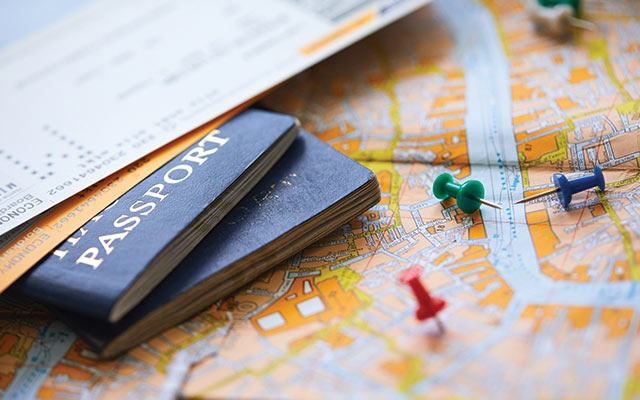 Does my passport need to be valid for 6 months when I travel?
Some countries will not let you enter if your passport has less than six months left to run. The rules vary by country.
Can we arrange a group passport?
You can arrange a collective or group passport for an organised group of 5-50 young people to make a trip to some European countries if all of those young people are British nationals and will still be under 18 by the end of the trip.
However, the list of countries that still accept a collective or group passport is quite limited. To check which countries accept them and for further information, please see the government website.
'Visa Waiver Form'
What is the Visa Waiver form?
The Visa Waiver Form (also known as the 'List of Travellers Form') is relevant to groups who are travelling within the European Union and have passengers who are not EU citizens. This form allows these pupils to travel without requiring a visa. Of course, if all pupils on the trip are British/EU citizens, then the form is not required. Find out more on the British council website.
Compulsory US Entry Requirements/Procedures
Please be aware that all passengers travelling to or transiting through the US on the current visa waiver programme will need to obtain an electronic travel authorisation prior to travelling.
Itinerary
Can we travel out by Eurotunnel and return on the ferry?
This is possible for groups undertaking a day trip, although this is subject to a supplement. Please contact us for current rates. If you are taking a longer duration trip, this is possible at no extra cost.
Can we travel by North Sea Ferries?
We can provide quotes that include these journeys but they are normally more expensive than Dover-Calais. Please contact us for advice.
Can we leave at 00.10 and get back at 23.30 on our day trip?
Normally a day trip duration is 21 hrs max as this is the legal limit for two drivers in terms of their hours.
What happens after we send in the deposits and booking form (and passenger list for flight trips)?
Upon receipt of your booking form and deposit, an experienced Itinerary Coordinator will contact you to prepare a full and detailed itinerary. You can include as much or as little as you like, as long as your drivers' hours do not exceed the legal limit.
Do you recommend full or half board?
From experience we recommend full board (breakfast, lunch (usually packed) and evening meal) as this is much easier for you as the Group Leader - you won't need to wander around trying to find restaurants or other food outlets that can cater for your group at short notice.
About our coaches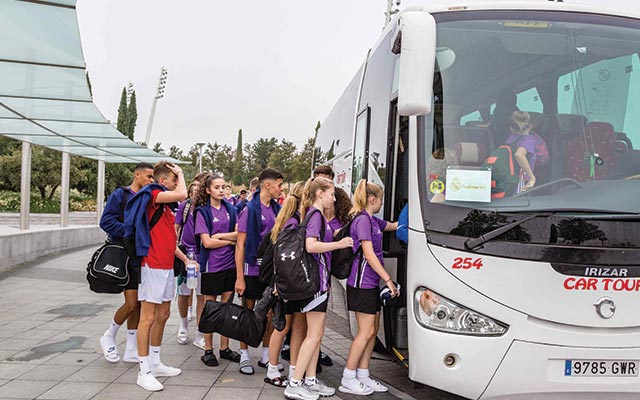 Do the coaches have toilets?
Our executive coaches do have toilets on board, although we recommend that they be reserved for 'emergencies' only. If they are used often, they can become very unpleasant, as the driver is not permitted to empty the toilet anywhere other than licensed toilet 'dropping points', which are few and far between. However, we do build plenty of comfort stops into the journey, so that passengers are able to use the facilities.
Do all your coaches have seatbelts?
Yes, all coaches used by school groups are required to have seatbelts by law. Please note, these are usually lap belts and not the 3 point belts that are usually found in cars.
Are there drinks facilities on the coach?
There are sometimes tea/coffee making facilities but these will be for staff only (we recommend that children do not use the hot drinks facility for safety reasons). Some coach companies will sell cans of soft drinks, but this must be arranged in advance.
Is there a first aid kit on the coach?
Yes, there is, but we suggest you take your own as well (your LEA/school regulations will probably require this).
How many TV screens will our coach have?
This will depend on the vehicle allocated but they should be positioned to allow everyone to see.
Will there be a microphone on the coach?
Yes, although if it is essential please tell us so that we can advise the coach company allocated.
Do you have any coaches with trailers?
Yes a few, but we need at least 3 months' notice to arrange this as they are in great demand and a supplement may also be required.
Where can I find more information about your coaches?
Please contact us for any further information you require.
Passenger numbers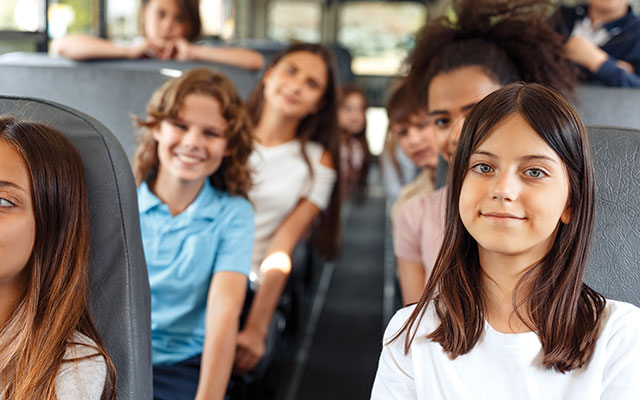 Do the 49 seats include the driver's seat?
No - there are 49 seats for passengers, excluding the driver.
We have 50 passengers, can one of them sit in the courier seat?
The courier seat is only for drivers or official couriers/guides and not for passengers. If the courier seat is specifically requested we will have to check with the coach company.
We've got 49 passengers, can we take some more?
It depends on the time of year, as well as the number of extra passengers (and whether it is possible to change the coach allocation). With plenty of notice, we can usually find 51/53 seater vehicles.
We have 137 passengers, how many coaches will we have?
It depends on the vehicles available on the day(s) of your trip. It could be 2 x 71 seaters (i.e. DDs) or 3 x 49 seaters. We will normally confirm coach sizes closer to your departure date.
Drivers
Will the driver speak French/German/Spanish/Polish?
This is very unlikely.
Do we have to spend 9 hours in resort on our day trip?
Having 2 drivers will normally mean that you still have to spend 9 hours in resort so that both can have an adequate break. If your school is in Kent or East Sussex, the shorter distance to travel does usually mean that you can do a trip within 21 hours (with 2 drivers and no 9-hour rest break) and this would mean that you would only have approximately 5 hours in resort.
Use of the coach
When and where will we have stops on the journey?
The time and location of the stops will depend on the prevailing traffic conditions on the day.
Can we use the coach to drive around Paris to the different visits?
The coach can drop you off at one of the allocated drop-off points, but it will have to park in one of the official coach parks. If you're travelling to Paris, please note that permits are now required to access certain parts of the city, which restricts where a coach can collect your group. Your Itinerary Coordinator will arrange your itinerary around these restrictions. Once your group is in Paris, you will normally need to use the Metro or walk.
Can we use the coach in the evenings?
This is dependant upon the driver's hours and itinerary. On the first night, this will not normally be possible because the driver will have been driving all day. On other nights it is usually OK to use the coach, provided we are informed in advance and this is shown on the itinerary. The driver must also have his 11-hour overnight break, so if the coach is used until very late in the evening, the coach can not be used until late morning the following day.
Can we eat on the coach?
It depends on the driver as some prefer that food is not consumed on their vehicle. When pupils do eat on the coach please make sure that all rubbish is put in rubbish bags.
Can we leave things on the coach?
Yes, but at your own risk - no valuables! Items left in the main part of the coach will not be covered by insurance if the coach is broken into.
Can I have the coach company's telephone number?
If you have a problem or the coach is delayed then please call the 24hr emergency numbers for Halsbury that are in the Final Information Pack and on your Vamoos app. We have all the out-of-hours numbers for coach companies and drivers, so we'll be able to get you the assistance you require.
About health and safety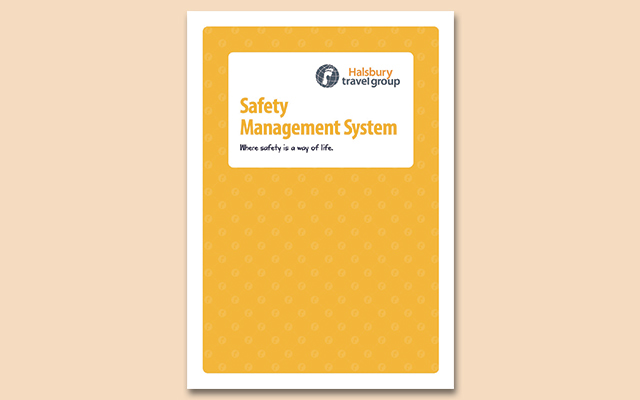 Have your drivers been police and DBS checked?
Normally, yes. We ask all coach operators to take all reasonable precautions to ensure that drivers allocated to school tours are child-friendly and have been appropriately vetted.
Does your company have a Safety Management System?
Yes, and we publish our Safety Management System for the benefit of Group Leaders, teachers, parents and LEAs.
How often does your company conduct inspections of hotels or coach companies?
Our Safety Management System gives details of all aspects of both the frequency and the scope of the vetting of the hotels and coach companies that we use.
Do you provide risk assessments for all the places on our itinerary to be visited?
We have a great many risk assessments for most of the places that you may visit. However, there is no substitute for you conducting your own risk assessments, as only you know the unique needs of the pupils and passengers that will undertake the trip. Check out our guide to risk assessments for school trips for more information.