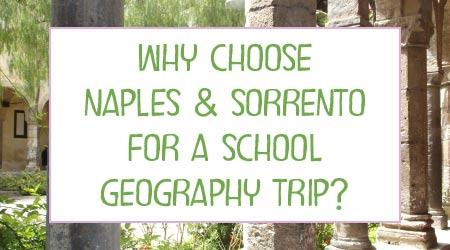 Perhaps Italy isn't the first place that springs to mind when you start thinking about a school geography trip. But it offers some incredible learning opportunities for your students. In particular, the Bay of Naples offers:
The opportunity to study a variety of volcanoes
This part of Italy is home to the Campanian volcanic arc, an area of extinct, dormant and active volcanoes lying over a subduction zone created by the destructive plate boundary between the Eurasian and African plates. There are both stratovolcanoes and super volcanoes here. And you'll have the chance to visit both.
Mount Vesuvius is a stunning example of a stratovolcano and is, in fact, the only active volcano in mainland Europe. Although it last erupted in 1944, Mt. Vesuvius is, of course, most famous for the devastating eruption of AD 79, which led to the destruction of the Roman towns of Pompeii and Herculaneum (both of which are possible visits on your trip).
That eruption consisted of a huge explosion which then created a massive column of gas, ash and rock. Huge ash falls and pyroclastic flows then engulfed the settlements, burying them for over 1500 years. The eruption was described by Roman historian Pliny the Younger, and so this type of eruption is now known as 'Plinian'.
Your group will also have the opportunity to visit the famous Phlegraean Fields and to see a caldera for themselves. As well as numerous ancient, extinct volcanoes, this area is home to the dormant Solfatara. Although this volcano hasn't erupted since 1198, there is clear evidence of activity below the surface, thanks to the steam rising from the many fumaroles and bubbling mud pools.
And the chance to find out why people choose to live in volcanically active areas
You'll likely choose to visit either Pompeii or Herculaneum during your visit to Naples and Sorrento. And what you'll see here is the devastating effects of a volcanic eruption on the nearby population.
Your students will likely be left wondering why, after such a catastrophic event, people would continue to live in the area.
Of course, one major reason is the land itself. The lava and ash deposited during an eruption actually provides the soil with many valuable nutrients, which is fantastic for agriculture. And the risk of an active volcano in your backyard then has to be weighed against the benefits of living in an area where food and opportunities are plentiful.
Your students will learn more about this when they visit a local mozzarella or olive oil producer.
Plus, it's not all about volcanoes…
A trip to Naples and Sorrento does offer your students plenty of opportunities to learn about volcanoes but, it's also a great place to learn about coastal environments and tourism, thanks to its proximity to the famous Amalfi Coast and Capri. You can choose to spend some of your time looking at the geography of these areas, and the effects of tourism on them.
Sound like the perfect trip for your group?