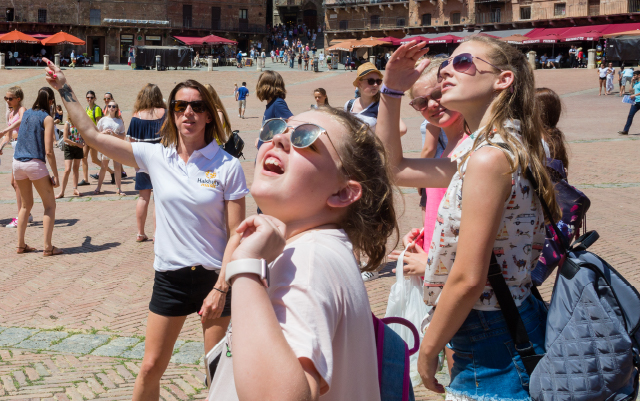 So many students have missed out on school trips this year as they've been cancelled due to the pandemic. But how much does it really matter? After all, aren't school trips a bit of a jolly? More of a 'nice to have' than an essential part of the school experience?
In short, no.
Created by teachers for teachers, we know the importance of school trips for students from first-hand experience.
From the strictly academic benefits of school trips to the advantages of school trips for personal development, we believe passionately that school trips are an essential part of the school experience for students.
They provide practical memories and experiences to recall in exams
One great advantage of school trips is that they provide students with practical memories and experiences of the subject. These are much easier to recall in exam halls than revision notes and passages in textbooks.
Plus, school trips give students the chance to deepen their understanding of the subject, allowing for much richer, better considered responses to exam questions.
And students recognise this benefit of school trips themselves – according to the Evaluation of Learning Away Final Report, 2015, 66% of secondary students thought they were better at problem solving and would do better at their exams after taking a school trip.
They offer real-world experience of the subject
Another great benefit of school trips is that they give your students an experience of the importance of your subject in the 'real world'.
But why is that important? Well, we've all had to contend with the argument from less than keen students that they're never going to need this subject or topic in the future.
Your school trip is your golden opportunity to prove them wrong.
And, by showing them how useful your subject is in the 'real world', you may even spark an interest that wasn't evident before. For some, you may even give them ideas for future careers they never would have considered.
They improve the classroom environment
When thinking about the importance of school trips, we tend to focus on how the trip directly affects students' education – i.e. deepening their understanding of the subject, giving them real experience of the subject and providing them with practical memories to draw upon in the exam hall.
But did you know that taking students outside of the classroom environment can do wonders for said classroom environment?
Your shared experiences and the opportunity to have fun together will only improve your student teacher relationship. This can help improve behaviour and engagement back in the classroom. It can also make it easier for students to talk to you if they need to.
And the students will have the opportunity to get to know their peers better, particularly those outside of their usual friendship circles. This can help them all to feel more comfortable in class, which in turn could see higher engagement and more contributions from even the most reticent of students.
They build confidence and develop independence
This is another often ignored but hugely important benefit of school trips.
According to the Evaluation of Learning Away Final Report, 2015, 87% of secondary students felt more confident to try new things they would not have done before their trip.
What a gift to give your students! The confidence to try new things and broaden their horizons will open up so many incredible opportunities for your students.
On top of this, for many your school trip might well be their first time travelling abroad without their families.
Although they will, of course, be fully supported by yourself and the other staff on the trip, they will still have to take responsibility for themselves, making sure they are up and ready on time every day, taking care of their property and making sure they behave in a responsible way so that they and everyone around them is safe.
Your school trip won't just be of educational benefit from an academic point of view, it will also help your students as they grow up and learn to become independent, confident young adults.
And they inspire
In the summer of 2017, we sent a survey out to all our customers, to find out what more we could do to support teachers running school trips. We asked what your main goals were as a teacher and many of you used the word 'inspire' in your replies.
And that is exactly what school trips are for. You'll inspire them to do the best they can in their exams, by giving them real, practical experiences and memories to draw upon. You'll inspire them to discover the value of your subject in the 'real world' and you could even help to unlock their future career.
You'll also inspire them to develop those crucial life skills, such as independence, intercultural understanding and tolerance. And you'll inspire them to be more confident in themselves and in their interactions with other people, whether that's familiar people like you and their classmates, or new people they meet throughout their lives.
So, don't give up on school trips!
Secure your next school trip now for a reduced deposit and benefit from free cancellation or postponement should the situation mean you aren't able to travel.
Check out our Covid Guarantee!
Like this?
Find out more about the benefits of school trips and download your FREE infographic!