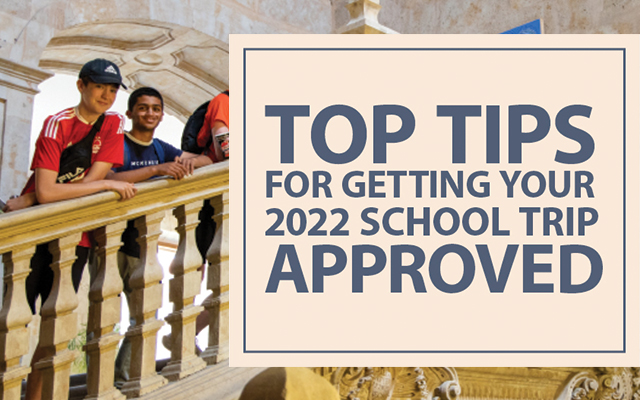 As we progress along the government's roadmap out of lockdown, you may have started thinking about the future.
And that might include a school trip in 2022.
We're advising anyone thinking of arranging a 2022 school trip to start planning as soon as possible, as we are expecting availability to be extremely limited for popular destinations at popular times.
But we understand that you may be concerned about getting your school trip approved right now. So, here are our top tips:
Remember to highlight the important benefits of your school trip
It's vital that you remind SLT, students and parents that your school trip offers something that cannot be substituted in the classroom.
This might be the opportunity to experience the subject or topic in the 'real world', giving your students strong, physical experiences that they can draw on when writing coursework or taking exams.
It might be the opportunity to show your students the importance of your subject and help them to understand why they're studying it. Your trip may even inspire them to take your subject through to higher education. Perhaps it could even inspire their future career!
As well as subject-specific benefits, your school trip will also offer opportunities for your students' personal development. Travelling without their family, potentially for the first time, offers your students the chance to take greater responsibility for themselves and can help make them more independent. This, in turn, can help improve their self-confidence.
And, outside the classroom environment, students will have the opportunity to develop their relationships with their classmates and with you as their teachers. This could help improve engagement in class, as they'll feel more comfortable venturing answers, taking part in classroom discussions and presenting.
Show me more benefits of school trips
Outline the financial protection your tour operator offers
One thing that may be a potential barrier in launching your trip is the concern that the money paid for the trip may be lost if the situation changes.
That's why you need to make sure that your money is protected.
The most important way to do this is to ensure that you book with a school tour operator that is ABTA and ATOL protected, like Halsbury.
Even if you are extremely well versed in organising school trips independently, it is strongly recommended that you do book with a tour operator that offers good financial protection for now, otherwise the school may be liable for refunding parents and it may be difficult to recoup those funds from individual suppliers.
The next thing to check for is whether your preferred school tour operator is offering any additional guarantees to protect your money, given that the situation remains uncertain for now.
The great news for you is that Halsbury's Covid Guarantee does just that.
You're able to book your school trip with us, without making any new financial or contractual commitments.
That's because our Covid Guarantee stipulates that if the situation changes and will have a detrimental effect on your trip (i.e. you're unable to travel at all, or you will be required to quarantine on arrival in either your destination or the UK), then you will receive a full refund or you can choose to postpone.
That means that you can book your school trip and still comply with the DfE's advice not to enter into any new financial or contractual commitments right now.
See our Covid Guarantee for more info
Explain the health and safety procedures and systems in place
Even more importantly, you will need to be able to reassure parents and guardians that you are able to keep their children safe on a post-Covid school trip.
Our dedicated Health and Safety Committee has been working closely with our suppliers to ensure that every precaution is taken to ensure that your group is safe.
For hotels and accommodation providers, this means adhering to the guidance provided by the School Travel Forum.
And for coach suppliers, this means following new cleaning protocols, and following new guidelines to minimise risk, such as modifying loading and unloading procedures.
Get your students excited about the trip
In order to be able to run your trip, you will need to have enough students signed up.
Now, after having missed out on so much, it seems that students are pretty enthusiastic about the thought of school trips, as we've already had groups contact us to say they need to book additional coaches and even another trip to cater for demand.
So you may not have to work too hard to get students excited about your school trip, although we do have some great resources to help you promote your trip, just in case!
However, you may find that this presents another problem. Competition from other trips within the school is one of the key reasons that teachers struggle to reach the required numbers.
With students super keen to get travelling again, and with so many departments in the school having missed out on their regular school trips, you may find that competition is even higher this year.
That's why we advise that you take full advantage of our Covid Guarantee to allow you to start planning early and beat the competition!
Ask your tour operator for support
The whole reason we exist is to support you throughout the process of arranging and running your school trip – so please use us!
If you need any further information or support at any point, please don't hesitate to contact us.
We can attend virtual parents' evenings if you would like us to help you field questions from parents.And we also have some great guides to getting your trip approved and getting parents on board.
Ready to start planning your 2022 school trip?