About to head off on your school music tour? Getting lots of questions about what to pack? These packing checklists (one for you and one for students) should help!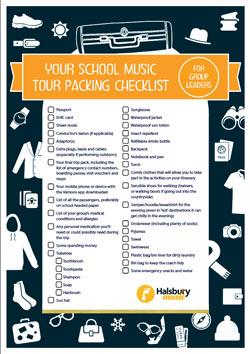 Packing checklists are always a great idea for students, to ensure that they pack everything that they will need on your school music tour. They're also a great time saver, as you won't have to answer the same questions over and over about what to pack for the music tour from parents and students.
A packing checklist is a great idea for you as Group Leader too. You will have so many things to remember as you prepare to leave on your school music tour that having a checklist just makes things a little easier and ensures you won't forget anything crucial.
Not started planning your school music tour yet?
Please don't hesitate to contact us for further information or to request a tailor-made quote.