It's been so great to see so many group leaders have the confidence to arrange school music tours and this summer we've seen some incredible musical experiences being shared by our groups.
However, we know that some of you are finding it tough to encourage students to join or re-join your ensembles.
Many of those whoplayed in school bands and orchestras before the pandemic, unfortunately, put their instruments down during lockdown and are yet to pick them up again.
And with choirs unable to rehearse and perform together too, many choristers have stopped singing too.
This is an incredible shame, especially when we know how beneficial being part of an ensemble is for wellbeing. So, we want to help you to encourage students back into your ensembles and attract new members whose lives will be changed by the experiences they have in your ensemble.
We've created these posters, which you can download for free, to showcase the incredible benefits of being part of the school choir, band or orchestra. Display them around school and share them on your school or department's social media.
Download the orchestra poster >>>
And make sure you put up one of our signup sheets on your display so that students can easily register their interest in joining your ensemble.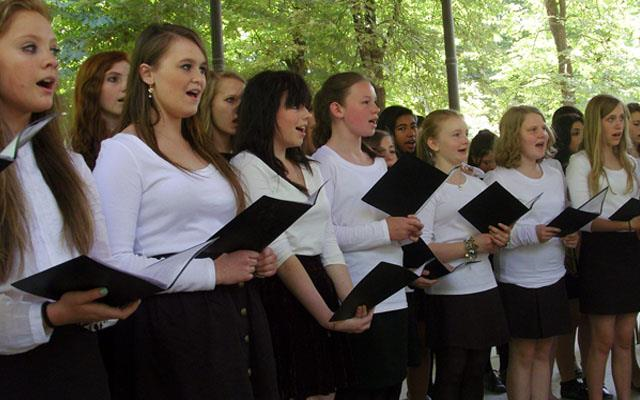 What are the benefits of joining the school choir, band or orchestra?
There are so many incredible benefits of joining an ensemble at school.
First and foremost, music offers the opportunity for students to express themselves without the need for words and so can offer real relief for students who struggle to express themselves otherwise. And this, ultimately, will boost their confidence.
Socially, joining the school choir, band or orchestra offers students the opportunity to make new friends. They will all have a love for music in common and the shared experiences of being in an ensemble will forge strong bonds between them.
Being part of an ensemble will develop students' teamworking skills, as they will need to work closely together to ensure that they perform to the best of their ability, both as individuals and as a unit.
They'll also develop their independence by becoming more responsible. They'll be in charge of making sure that their instrument (or their voice) is kept in a playable condition and they'll need to make sure they bring everything they need to rehearsals and performances. They'll also have to take responsibility for themselves, by ensuring that they practise and continue to improve their skills so that the ensemble as a whole is able to perform to the best of its ability.
For students who are experiencing stress, such as those taking exams, music offers wonderful stress relief. Joining your ensemble will give them something else to focus on, and something fun and uplifting to look forward to.
And choristers may see real physical benefits too – when we sing, we open up our diaphragm and our breathing rate slows and deepens, which oxygenates the blood. This can actually increase the production of white blood cells, which are essential for preventing illness!
Studies have shown that music can actually make us more intelligent too, as it changes how we think. And, in fact, it seems to have a particularly strong effect on our mathematical skills and our ability to learn a second language. So, maybe you should rope in your colleagues in the maths and MFL departments to recruit students to your ensemble!
Being part of an ensemble will also help students to improve their memory, as they learn new pieces. And if they're playing an instrument, they'll constantly be improving their hand-eye coordination.
Being part of an ensemble will also improve any musician's musicality. They'll constantly learn from others in the ensemble. Their listening skills will improve and they'll develop their appreciation of harmony.
Still struggling to recruit members for your school choir, band or orchestra?
Remember, a school music tour abroad will be an exciting prospect for students and will give them something to work towards.
Please don't hesitate to contact us for further information or to request a tailor-made quote.