What was your main objective for this trip?
We wanted to provide our students with an opportunity to immerse themselves in the French language and culture and to increase their engagement with the subject (and, hopefully, increase A-Level uptake).
Why did you choose this destination?
I chose Montpellier partly from a personal preference for the South of France, which I believe offers a bigger change of scenery for British pupils, as opposed to Normandy. There was also the promise of better weather for a February school trip and the appeal of a beautiful university city with pedestrianised zones, tramway travel and historical and cultural sites.
Can you briefly describe the visits and activities that you participated in during this trip?
In the mornings, our students had French lessons. This was the main purpose of the trip for me, as I wanted students to have a boost in French both explicitly with teaching and more organically through afternoon cultural activities.
We also enjoyed a walking tour of the city and petanque, which is an essential element of the local culture and fun for the pupils.
The Photomania activity provided by the language school was very popular. The students had to explore the town centre to find things and photograph them. This was also an excellent way to get display materials for trip promotion.
I also set the students several challenges of my own devising. They did a scavenger hunt, role play speaking tasks, a postcard task and a GCSE photo card style task in a museum. These mini challenges worked well, especially as they were linked with copious amounts of chocolate prizes.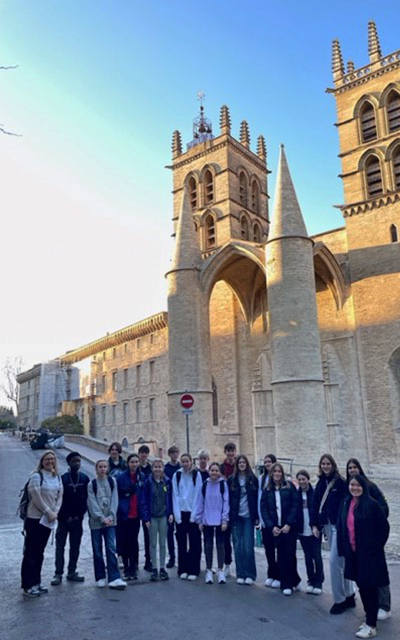 What will be your lasting memories of this trip?
Getting to know my colleague better.
Feeling proud of the students in the museum as they recorded photo card speeches on their phones with a work of art in shot.
Watching some of my boys making friends and playing football with some local students in the Place de la Comedie.
Loving how much the pupils got into their petanque game.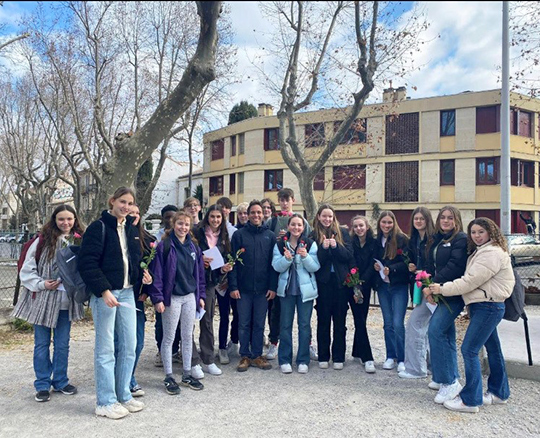 Why did you choose Halsbury for this trip?
Over 15 years ago, I used Halsbury for a Boulogne day trip and was impressed with how 'looked after' I felt as a trip leader. Since then, I have used Halsbury for sixth-form work experience and I feel that the provision is more tailored than with bigger providers. My aim is always to put improvement in the French language at the fore, and the flexibility Halsbury provide allows for that. Halsbury don't expect me to have a theme park day, just because everyone else does that.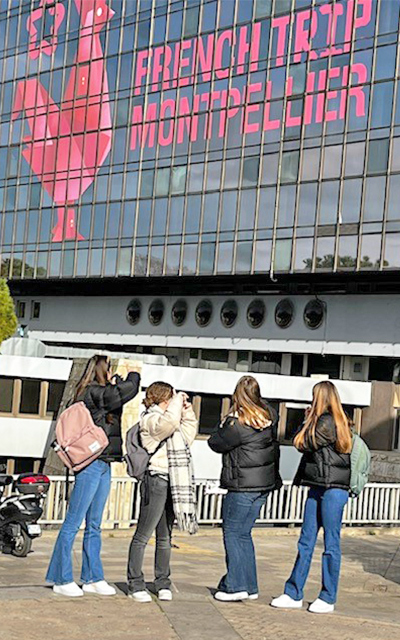 How would you describe the experience of working with Halsbury on this trip?
Smooth. Whenever I had problems, they were fixed and I did not feel I had to fill in many forms or reproduce much admin.
Would you recommend Halsbury to your friends and colleagues?
I do recommend Halsbury, on Facebook in the MFL groups and to colleagues. We are in a contract with another provider at my school, but I have explained at length, to anyone who questions me, that Halsbury allow me to make a trip with a French focus which is affordable. If I want hoodies, I can order them separately!
Feeling inspired? Ready to start planning your French school trip to Montpellier?
Please don't hesitate to contact us for further information or advice, or to request your tailor-made quote.