Your guide to keeping parents up-to-date while on your school sports tour.
Parents will naturally worry when their child travels without them, especially if it's the first time! One of the best, and easiest, ways to reassure them is to update them on how the tour is going.
It's even better if you can show them what a good time their child is having on their school sports tour!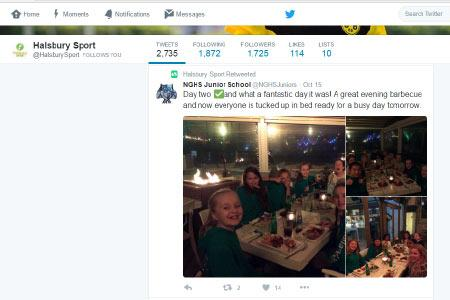 Many of our groups use Twitter to keep in contact with parents during their school sports tour. Several have even set up Twitter accounts and/or hashtags specific to the tour, to make it even easier for parents to find the relevant information.
Twitter is a great tool for keeping in contact with parents during your tour, as it was designed with short updates in mind. This means avoiding the need to write long blog posts, or making daily phone calls to nervous parents.
You can also include pictures, if you want to. This is a great idea, as it shows parents that their kids really are having a great time and gives them more of an idea of what they're up to!
We're pretty active on Twitter and would love to see your updates too, so follow us on @HalsburySport and we'll follow you back!
And remember to tag your posts with #HalsburyTrips for your chance to win a £30 Amazon voucher in our termly social media competition!
Facebook is also a great option and, like Twitter, many parents may already be familiar with it. Again, you can post short updates and pictures, or longer posts if you feel the need and have the time.
If your school already has a page, you can set up an event that you can then 'invite' parents to.
And we're on Facebook too!
Before your tour
If you're thinking of posting updates about your tour on social media, you may want to set this up earlier in the process.
Not only will this give you a chance to promote your account and grow your audience, but you can also use it to reinforce important information, such as deposit deadlines, what to pack and how much pocket money to bring.
It could also give parents the opportunity to ask you any quick questions that they might have, which will help to reassure them.
We hope this guide has been helpful - we look forward to seeing your tour updates!
Win a £30 Amazon voucher!
Our school sports tour experts often spend months helping you to plan your school sports tours and they absolutely love seeing your social media posts when you're out on your tours.
So, each term, we're offering a £30 Amazon voucher for the best social media post that tags us or our hashtag - #HalsburyTrips!