Encourage your school community to live more healthily with these free downloadable posters!
As part of our 'Live Well' series, we've designed some posters for you to display around your school or in your department.
Fun ways to exercise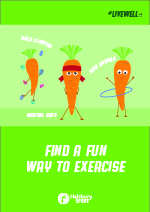 Not all of us enjoy traditional sports, but in order to live and maintain a healthy lifestyle, it is essential that we find an activity that we enjoy. As you know, it's so much easier to be motivated to keep fit when you enjoy the activities you're doing.
In a previous blog, we wrote about a number of different activities that your students could try, including trampolining, rock climbing, hula hooping, dancing, hiking and martial arts!
Find healthy alternatives to your favourite snacks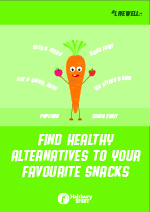 You can't live healthily if you're not eating healthily. And snacking is often where many of us fall off the healthy eating waggon.
In a previous blog post, we suggested some healthier alternatives to snacks like crisps, chips, chocolate and cake. You don't need to deny yourself everything, but just swapping a few snacks for something a bit healthier can make the world of difference.
Stay warm with indoor exercises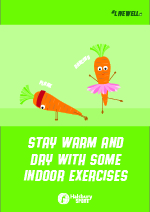 January is the most popular time for people to embark on a health kick. Unfortunately, it's also in the middle of winter, and finding the motivation to head out on that run when it's freezing, raining, or even snowing is incredibly difficult.
That's why, in one of our previous blog posts, we've suggested a few great indoor exercises for your students to try if they don't fancy facing the elements but still want to stick to their healthy living goals.
Stay hydrated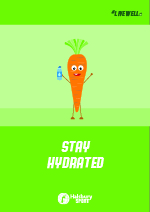 Last but not least, one of the most important things to remember to achieve a healthy lifestyle is that you must stay hydrated!
Ensuring you drink enough water every day is important - it helps regulate body temperature, ensures that nutrients are delivered to cells, keeps organs functioning correctly, keeps joints lubricated and even prevents infections!
If you become dehydrated, you run the risk of getting headaches, feeling dizzy or lethergic and lacking concentration. And over a longer term it can cause serious problems.
Teenagers and adults should be aiming for around 1.5-2 litres of fluid a day, which works out to be around 8-10 drinks a day, although this will increase if conditions are hot or if you've been exercising.
We hope these posters are useful for your students and wider school community!