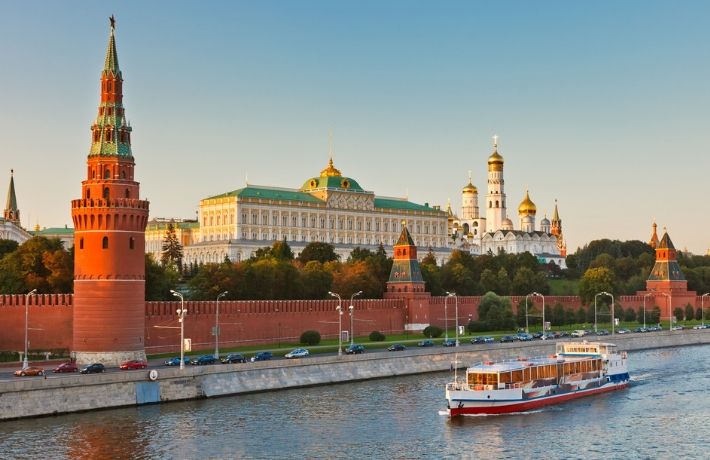 Visit the Kremlin!
The Kremlin is at the heart of Moscow, both geographically and metaphorically. It's a fortified city within the Russian capital and boasts exquisite palaces and magnificent cathedrals.
It has been the seat of power in Russia since the capital was moved back to Moscow after the Russian Revolution and still now the Russian President resides in the Grand Kremlin Palace.
It's also home to the most important cathedral in Russia, the Assumption Cathedral (also known as the Cathedral of the Dormition). It was here that Russian tsars were crowned and were many Russian Patriarchs are buried, making this an important site for Russian Orthodoxy.
Did you know?
The Kremlin is the largest fortress in Europe still to be in use and is home to five palaces and four cathedrals!
Visit the Hermitage Museum!
The Hermitage Museum is one of the world's most prestigious art museums and a must-visit when on a school trip to St. Petersburg. The museum's foundations lie in the personal collections of the Tsars, and Catherine the Great in particular, who was a prolific collector of fine art.
The collection grew significantly in the post-revolutionary period, when many great works of art were confiscated from both rich, aristocratic Russians and defeated Nazis, and given to the museum for the public to enjoy.
The museum has satellite centres as far away as Venice and Amsterdam. But the main museum in St. Petersburg is itself huge, consisting of 400 rooms spread over three floors of five interlinked buildings!
Did you know?
The Hermitage Museum's collection consists of over 3 million works of art and cultural artefacts. You'll only see a fraction of these displayed in the museum's centres, but even so it's advisable to plan your visit as there is still so much to see!
Visit the Yusupov Palace!
The Yusupov Palace, also known as the Moika Palace, is most famous as the setting for the murder of Grigori Rasputin, the Russian mystic whose close association with Tsar Nicholas II and his family caused such scandal in the lead up to the Russian Revolution.
He was lured to the palace by its owner, Prince Felix Yusupov, who initially tried to poison him. When that didn't work, Rasputin was shot but he survived that too and tried to escape across the courtyard of the palace.
Yusupov and his co-conspirators did eventually succeed in killing the 'mad monk' by throwing him into the Moika River. Yusupov was never charged with the murder but was banished from St. Petersburg, before later going into exile after the February Revolution and the abdication of Tsar Nicholas II.
Did you know?
The Yusupov Palace is one of the best examples of a 19th century aristocratic palace in St. Petersburg, having survived the Russian Revolution and two World Wars. The interiors are incredibly sumptuous, illustrating the pre-revolution wealth of Russia's noble families.