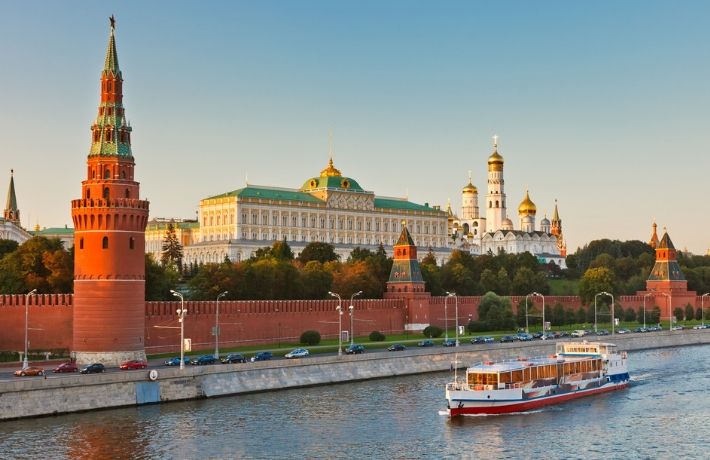 Visit the Kremlin!
The Kremlin is at the heart of Moscow, both geographically and metaphorically. It's a fortified city within the Russian capital and boasts exquisite palaces and magnificent cathedrals.
It has been the seat of power in Russia since the capital was moved back to Moscow after the Russian Revolution and still now the Russian President resides in the Grand Kremlin Palace.
It's also home to the most important cathedral in Russia, the Assumption Cathedral (also known as the Cathedral of the Dormition). It was here that Russian tsars were crowned and were many Russian Patriarchs are buried, making this an important site for Russian Orthodoxy.
Did you know?
The Kremlin is the largest fortress in Europe still to be in use and is home to five palaces and four cathedrals!
Visit the Museum of the Great Patriotic War!
The Museum of the Great Patriotic War tells the story of the Soviet Union's involvement in the Second World War, which is known as the Great Patriotic War in countries of the former Soviet Union.
Here you'll find dioramas depicting every major battle in which Soviet forces were involved, as well as artefacts from the period including uniforms, weapons and military awards. And the Hall of Glory and the Hall of Remembrance and Sorrow honour recipients of the Order of Victory and all Soviet soldiers who died in the war, respectively.
The museum is located in Victory Park, on Poklonnaya Hill. Displayed in the park are a number of military vehicles, cannons and other equipment, as well as a church, a mosque and a synagogue.
Did you know?
In Russia, the end of the Great Patriotic War is considered to be the 9th May, when the German surrender took effect. The 9th May is now a national holiday known as Victory Day, which is celebrated every year with a huge military parade on Red Square!
Explore the Red Square!
Red Square sits at the very heart of Moscow, with all the city's main streets radiating from it. Sandwiched between the Kremlin and the historic merchant neighbourhood of Kitai-gorod, Red Square is one of the city's main tourist attractions.
Here you'll find some incredible examples of Russian architecture, from St. Basil's Cathedral to the GUM department store, Kazan Cathedral and the State Historical Museum.
This is also the site of Lenin's Mausoleum which is, of course, a fascinating visit for those studying the Russian Revolution and the Cold War.
Did you know?
The square's name has nothing to do with the colour of the bricks used in some of the architecture, or even the country's Communist past. In Russian, the square is called Krasny ploshchad. Krasny once meant 'beautiful' but in contemporary Russian means 'red'.