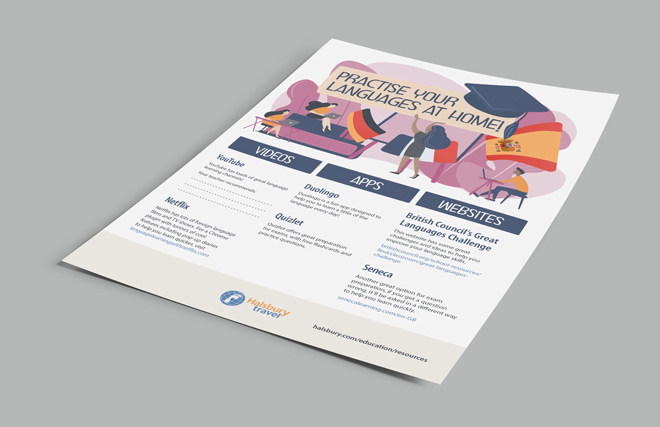 Download this poster to help your students continue their language learning at home.
There are loads of fun ideas to help them keep learning and have fun with languages.
Videos
Other than going abroad, foreign-language videos, TV and films are probably one of the best ways to immerse students in their target language.
YouTube has lots of fantastic language learning channels for all levels. There are options for learning grammar, or hearing more 'natural', conversational language.
Netflix is also a great source for foreign language film and TV shows. And there's also a Chrome extension you can download to help your language learning through Netflix, with pop up dictionaries and other cool features.
Apps
There are some great apps to help with language learning. Duolingo is very popular, because it gamifies the language learning process.
And Quizlet is fantastic for those preparing for exams, as it offers free flashcards and practice tests.
Websites
The British Council's Great Languages Challenge offers some great ideas and challenges to inspire your students.
And Seneca is ideal for students preparing for exams – if you get a question wrong, it asks it again but in a different format, helping ensure students learn as quickly as possible.
For students who need to improve their grasp on grammar, Conjuguemos offers flashcards, games and guided practice.
We hope your students find this poster helpful. And if you loved this poster, you may like to see our other MFL resources!
If you would like further information on our languages school trips to France, Spain or Germany, please don't hesitate to contact us.