When the Covid-19 pandemic was declared, it brought an abrupt halt to school trips. But what about now? Are school trips abroad allowed?
Will school trips be allowed in September?


In July, the Department for Education finally announced that overseas school trips would be able to resume in September.
From the start of the new school term, you can go on international visits that have previously been deferred or postponed and organise new international visits for the future. DfE, Schools COVID-19 Operational Guidance, July 2021
So, yes, school trips abroad are allowed from September.
However, although we're certainly in a better place now and the world will slowly return to normal, there are certain things you should be aware of when it comes to planning school trips.
The DfE has advised that you check the following before making a new booking:
Is your trip financially protected?
Given the likely gap in COVID-19 related cancellation insurance, if you are considering booking a new visit, whether domestic or international, you are advised to ensure that any new bookings have adequate financial protection in place. DfE, Schools COVID-19 Operational Guidance, July 2021
It is, therefore, advisable to book your school trip with a fully-accredited tour operator, like Halsbury.
Our ABTA membership and ATOL licence mean that your tour will be financially protected.
We were also one of the first tour operators to put a Covid Guarantee in place.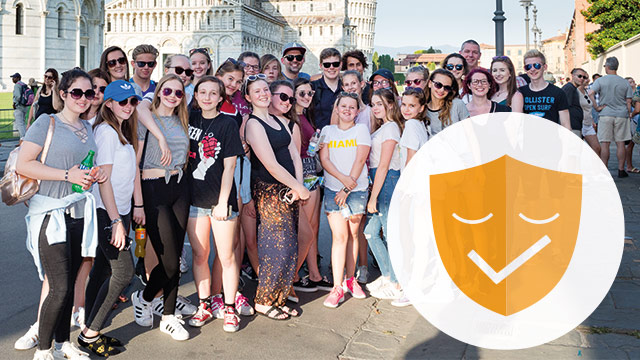 Our Covid Guarantee means that if you cannot travel due to Covid restrictions, you will either be able to postpone or cancel for free.
Plus, we're also able to offer insurance to cover individuals having to drop out of the trip due to testing positive for Covid-19 or being told to self-isolate by NHS Test and Trace.
And, of course, now that the DfE has announced that overseas school trips will be permitted from September, if your school has joined the RPA, this will cover you for school trips abroad from September.
Does your tour operator have contingency plans in place?
The travel list may change during a visit and you must comply with international travel legislation and should have contingency plans in place to account for these changes. DfE, Schools COVID-19 Operational Guidance, July 2021
Our Covid Guarantee is designed to give you the flexibility you'll need in case your destination does move on to the red list. Up to 30 days before your trip departure date, you'll be able to postpone your trip. If the change happens within 30 days of your trip departure date, you'll be able to cancel your trip and we'll provide you with a full refund.
Can you undertake a full and thorough risk assessment?
You should undertake full and thorough risk assessments in relation to all educational visits and ensure that any public health advice, such as hygiene and ventilation requirements, is included as part of that risk assessment. DfE, Schools COVID-19 Operational Guidance, July 2021
One of the first things we did when the pandemic started was form a dedicated Health & Safety Committee.
They've been working closely with our suppliers throughout to ensure that they are able to provide safe environments for our groups. So, we can provide you with any information you require to complete your risk assessments.
Find out how we're helping you travel in confidence >>
Ready to book your school trip?
If you book by 31st October, you'll save up to £40pp!