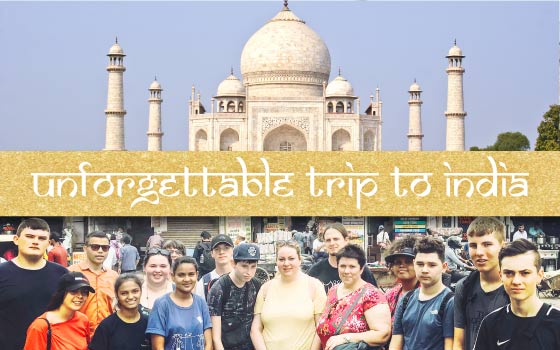 School name: The Bemrose School
Destination:India
The trip was an amazing opportunity for the students to see the cultural differences in India. The students commented on how lucky they felt to live where and how they do. The whole trip from start to finish was so well organised. Never once did we have to wait around. The hotels were fantastic, and we have honestly never eaten so much. There was a variety of food for each meal.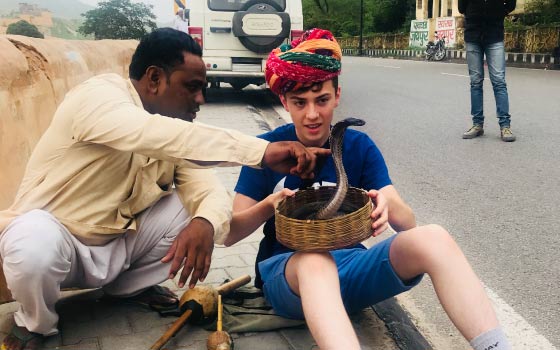 What was your main aim/objective for this trip?
The main objectives of this trip were to allow students the opportunity to experience a completely different culture for themselves, and to open their eyes to the world around them, making them appreciate what they have.
We also wanted to build their self-esteem by working together as a group to raise the funds to go on the trip.
Why did you choose this destination?
We chose India as it had such a lot to offer for the students to experience.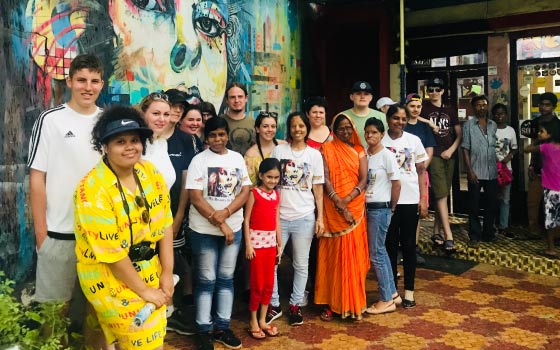 Can you briefly describe the visits and activities you participated in during this trip?
We had a very busy schedule. We visited various tourist attractions including the Taj Mahal, Amber Fort and various temples.
At one of the temples, which feeds over 10,000 people every day, we were lucky enough to have a tour of the kitchen area. We were blown away by the amount of food that was made and how many people volunteered their own time to help cook and serve the food.
We also visited a café run by acid attack victims and listened to their life stories.
It was unbelievable hearing how they'd been through such an awful ordeal but had managed to carry on. It was also incredible to hear how they all support each other.
The café was actually on the brink of being closed down, so an Indian news organisation asked if we could do an interview for TV whilst we were there, which we did!
We also met with former railway children and visited a centre set up for homeless children. The centre provides a place for the homeless children to go in the day time. The children then have the chance to interact with each other and learn new skills.
We also went to a bear sanctuary that rescues dancing bears and educates families in an effort to put a stop to bears being exploited.
We spent a morning in a primary school with the children in class and during lunch. It was very different to school in the UK as they had no desks and sat on the floor. They even sat on the floor to eat their dinner. We took clothing and stationary to donate to the children.
And we also visited several local markets, which was an experience in itself, as the vendors are much more persistent than they are back in the UK!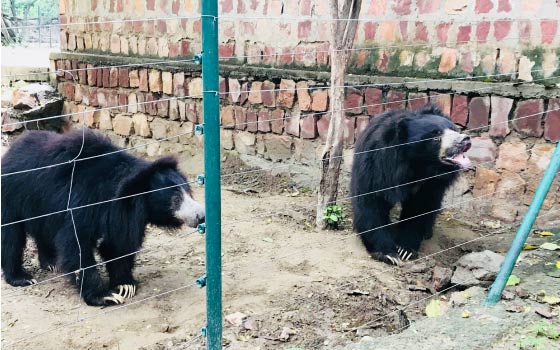 Why did you choose these visits and activities?
I wanted the students to get a broad view of life in India and experience as much of the culture as possible for themselves.
So, I tried to include a mixture of tourist attractions and cultural experiences.
We had raised extra money to take out with us, so we used this to buy food for the homeless children and handed it out whilst there. We also made donations to the acid attack victims, the bear sanctuary and the school.
Did you fulfil your aims and objectives?
100%!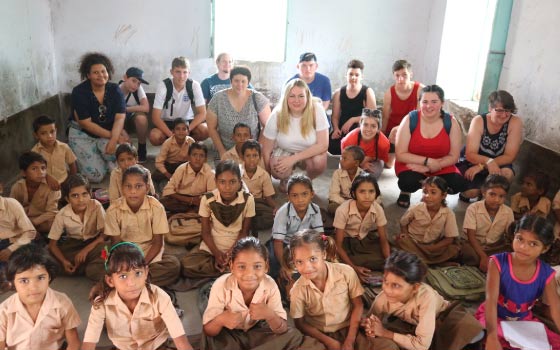 What benefits did the students get from the trip?
The students I took are all from deprived backgrounds. Two had suffered the loss of a parent recently and some had a diagnosis of autism. So, life for them hasn't been easy.
However, going on a trip like this has opened their eyes and made them realise that, yes, it's been hard for them, but there are so many people who are much worse off than themselves.
It was a chance for them to see that there is a big wide world out there and if they work hard they can travel and see it.
The students fundraised to go on the trip, so it also taught them new skills and helped to raise their self-esteem.
It also helped them to become more involved in their own community, as they put on various events in the local community to raise the money.
What will be your lasting memories of this trip?
Speaking with the acid attack victims and how they have managed to put it behind them and rebuild their life.
Spending time with the students outside of school and seeing them in a completely different light. Some had never even flown before, so it really was an amazing experience for them all from start to finish.
The boys have all left the school now as they were in year 11, but I know they will take the memories of this trip away with them for life.
Why did you choose Halsbury for this trip?
It's a local company that had good reviews and was able to meet our needs.
How would you describe the experience of working with Halsbury on this trip?
It was fantastic from start to finish.
India is a long way away and the whole trip was so well organised. The guide was amazing and so knowledgeable. And every day ran like clockwork.
Would you recommend Halsbury to your friends and colleagues?
Without a shadow of doubt, yes, and I have done already.
Our local newspaper has also run an article on our trip as we did a daily blog whilst there.
Interested in arranging a similar experience for your students?
Please don't hesitate to contact us to discuss the options available.