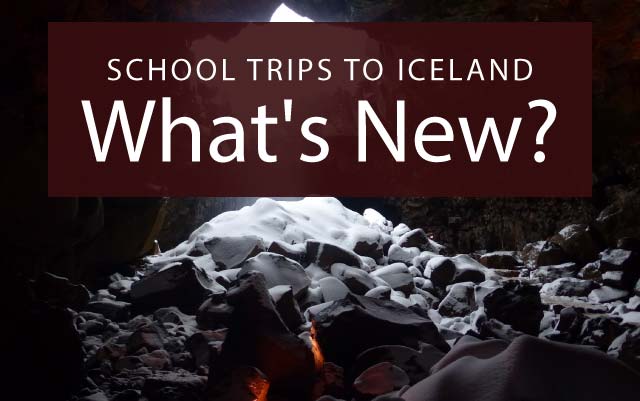 Long-haul specialist James has just returned from another visit to one of our favourite destinations – Iceland!
James has visited Iceland countless times. With a background in geography, he loves the country and all that it offers for geography school trips. And yet, every time he visits, he discovers something new, as he tells us here: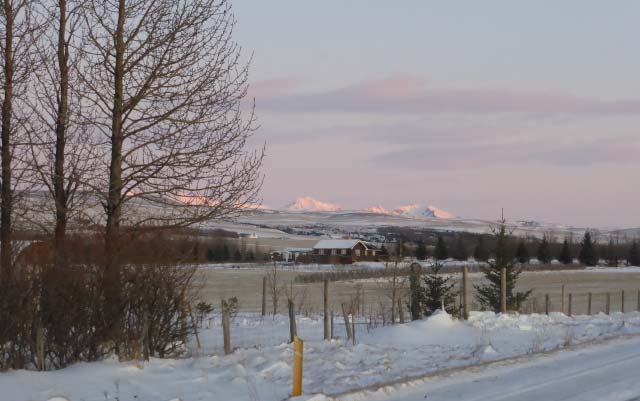 Where did you go and why did you go there?
A few months ago, I was lucky enough to visit the Azores and I returned having fallen in love with the islands. I explained why I thought it was such a great place to study geography on a school trip in my previous blog.
To complement this, and to see some of the new attractions, I was asked to return to Iceland in December.
Compared to previous visits to Iceland this was to provide me with some memorably different experiences.
My main objectives on this visit were to meet with our ground handlers to discuss the upcoming season and complete some accommodation audits for our regular hotels.
But along with this, there were several new visits that had opened since my last trip and I felt I needed to experience these in order to give our groups the best information to help make their trips to Iceland memorable.
Leaving late on Friday evening and travelling with the national carrier Iceland Air, I arrived just after midnight to a cold, crisp Keflavik airport.
Snow on the ground and a distinct chill in the air reminded me that I was in the country that the first inhabitants quite rightly named Iceland. I left the airport and caught a taxi to my overnight hotel - the Start Hostel, which is about 10 minutes from the airport (in normal conditions)
Travelling in winter makes Iceland much more exhilarating, particularly when you're driving!
Leaving at 9 in the morning, in total darkness, with snow and ice on the road and minus 5 showing on the dashboard I left towards Reykjavik…slowly!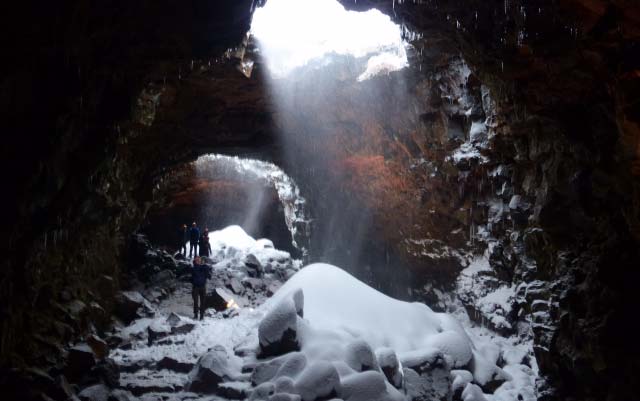 What were your impressions of the destination?
Iceland is a fantastic destination to study many things and my impression is it is constantly evolving - each time I visit I see different things and experience new highlights.
Each season has its own beauty and educational experiences - spring for the ice and snow melting and swelling the many rivers, summer for the long, almost endless days, autumn for the cooling days and the first sights of the Northern Lights, and winter for the beautiful snow covered mountains creating a picture postcard landscape.
As a geographer myself, I love the fact that it has everything you could wish for in a geography trip to study dramatic landscapes – rivers, mountains, waterfalls, glaciers and wind-swept beaches, whatever the season!
Did you visit any of the sights, or take part in any of the activities that school groups are able to?
One of my main aims was to visit some of the new attractions Iceland has to offer, all of which have both educational and fun elements to them.
FlyOver Iceland is a new attraction near the harbour and a short walk from the Whales of Iceland exhibition.
At FlyOver you experience the virtual reality thrill of flying over the country and wondering at the amazing scenery and sights as you soar over mountains, lakes and glaciers.
Prior to the ride you learn a little of how the country was settled by the Vikings and how it was created, from its original inhabitants…trolls. This new experience is well worth a visit, perhaps on a free day in the city or as an evening activity.
The Lava Centre in Hvolsvöllur, opened following the closure of the Eyjafjallajökull exhibition, is a new and exciting way of seeing how Iceland was created, this time from the scientific viewpoint.
As well as a short film on the recent volcanic activity the centre has a walk through interactive educational exhibition where students can see how volcanoes are formed, how tectonics work, and define Iceland as well as seeing in real time the multiple earthquakes that shake the island daily.
Groups who have visited this attraction have really enthused about it and I can see why - it is a great way to see how it works before visiting the sites concerned.
The Lava Tunnel, Raufarholshellir, is about 30 minutes from the city and, weather permitting, is accessible all year. It is a bit of a challenge in the snow though!
This is a fantastic way of getting an insight into the power of volcanoes as you walk through the tunnel created from lava flows over 5,000 years ago. Spectacular colours and features await as you walk through the entrance and into the dark. Once inside you experience true darkness as the guides turn out the lights and everyone switches off their own head torch.
This experience is great for seeing how the earth's forces shape the landscape of Iceland.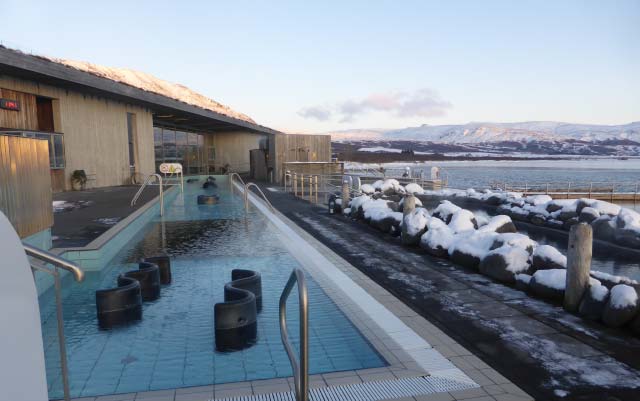 Did you stay in/inspect any hotels? What were your impressions?
This was one of my main objectives of the trip so there were quite a few.
The Start Hostel is a comfortable family-run establishment and is, in my opinion, vastly underused as a base for starting or ending a tour.
Due to the proximity to the airport it is ideal if groups are travelling very early in the morning or arriving late at night. Rooms are a good size and the accommodation is comfortable. Breakfast is self-serve, as in most Icelandic properties, so you can make sure your group fills up before starting the day.
The Viking Hotel in Reykjavik is a themed hotel and cottages, used by most of the school travel companies. This was the first time I had visited and, I have to say, I was pleasantly surprised.
I was impressed with the location and the views over the bay make it a great hotel for groups to enjoy a scenic walk in the evening. It is a little way out of the city centre but definitely worth a visit.
Hostelling International have many hostels throughout Iceland and I visited four of them on this trip - three in the city and one in Selfoss.
Overall, they're very similar but with unique elements that make each one suitable for different groups.
City Hostel is the biggest and suitable for all. Loft is in the city and, with its bar and entertainment, is more suited to older groups as is the smaller Downtown hostel close to the harbour area.
Selfoss is just over an hour from the city and the hostel here is small and compact, and well-suited to all groups who want a quieter location with easy access to the South Shore.
Hotel Hvolsvöllur is a pleasant hotel located just off the main highway and a short walk from the Lava Centre.
The lounge and dining area is bright and spacious and the rooms follow the same bright, clear and spacious feel. Again, I think this is an underused gem in the south and more groups should take advantage of its excellent location.
Husid is a family-run guesthouse a short drive from the village of Hvolsvöllur and close to Hellisholar hotel and cottages.
A second property, Kennarabustadur, can be booked as well, so this is ideal for groups interested in exclusive use accommodation, utilising either or both properties. Again, I liked the properties – they're basic but comfortable and there's loads of outdoor space to burn off the excess energy.
Hellisholar Cottages and Hotel, set in the beautiful countryside overlooked by majestic mountains, is a popular choice for groups due to both its location and facilities.
The hotel is set in two blocks just a short walk from the reception and restaurant and a series of cottages fan out in an adjacent field - each one is self-contained and sleeps up to six people.
Staying here was so quiet and peaceful, it's easy to forget you're only a couple of hours from the hustle and bustle of Reykjavik.
Hotel Ork has had some major building and refurbishment since my last visit and it looks fantastic. New rooms will soon be complemented with new décor.
The location is close to lots of activities and staying here means there's always plenty to do without having to go too far.
A short walk away is a geothermal field and earthquake simulator so, if your group is on a longer tour, you can easily fill a day in the local area without needing to travel.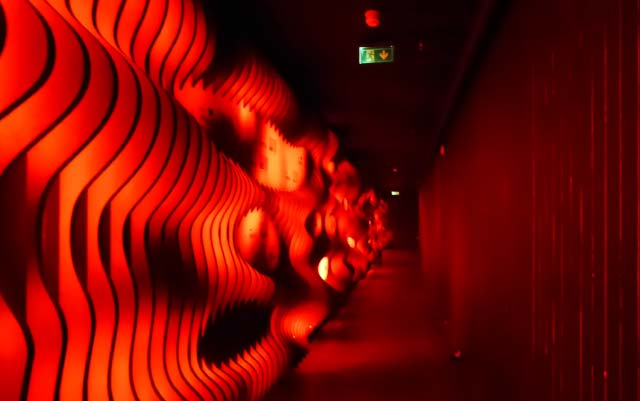 Why do you think Iceland is a good destination for a school trip?
Iceland is a great destination for school trips, as there's so much to see and do. The Icelanders are also incredibly welcoming and offer fabulous hospitality.
The country has everything required to experience a different culture without having to travel too far.
For students of geography, geology, photography, science and art it's a destination that ticks so many boxes, but it is good for everyone.
There is the perception that Iceland is expensive and, yes, some things are more than you would expect here in the UK, but it's all relative and it is still possible to do a school trip for a reasonable price.
You can do most of the key visits in a weekend so a three-day trip is feasible and can help keep costs down.
Ready to start planning your trip to Iceland?
Yes, send me a tailor-made quote!