Here's what they discovered.
Where did you go and why did you go there?
We visited Normandy predominantly to see the accommodation centres operated by the non-profit organisation UNCMT.
Our school groups regularly use three of their accommodation centres, so it's important for us to maintain our strong relationship with UNCMT to ensure that they continue to meet the needs of our groups.
Normandy is a really popular destination for our school groups, particularly those studying WW2, as they're able to visit the D-Day landings beaches and the war cemeteries.
It's also perfect for those learning French too, as it offers a great insight into the French culture and offers the opportunity to use their language skills in context. You could even turn this into a cross-curricular trip!
What were your impressions of the destination?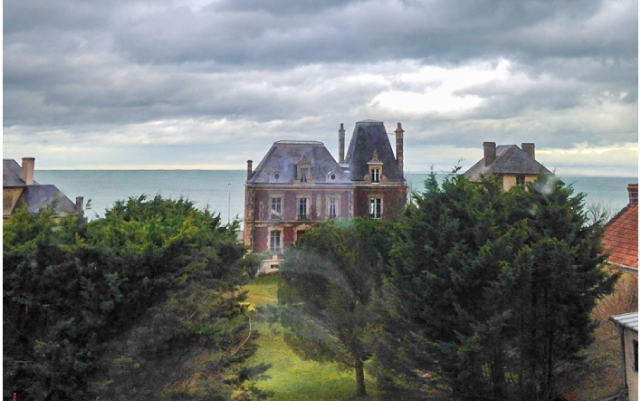 Normandy really is a green and pleasant land, and is famous for its apple orchards, dairy farming, the Mont St. Michel, the Foundation Monet, the Arromanches Landings Museum and much, much more!
Off season is quiet here but it really comes alive in spring and summer, particularly around the anniversary of D-Day. Some key historical events took place in this area, making it a fantastic choice for history school trips.
Normandy is very picturesque – the landscape is lovely and the architecture is typical of Northern France, with half-timbered farmhouses and unique roofing. There's also plenty of opportunity to experience French gastronomy, which is great for food technology groups - one of our favourite foodie moments was lunch in a seaside restaurant in Lion-sur-Mer!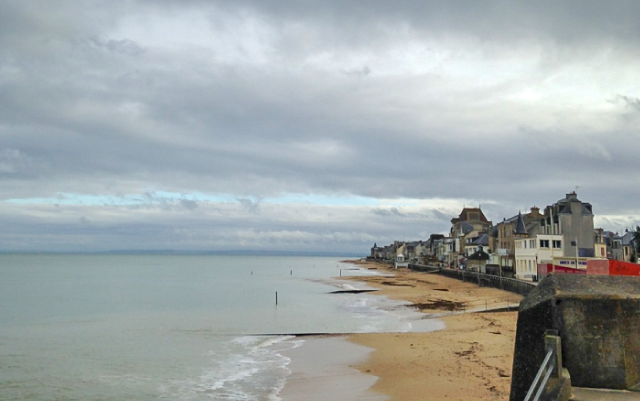 There are such a wide range of activities to do in Normandy, providing school groups with the opportunity to discover and soak up the French culture, improve their language skills and better understand 20th century European history.
How did you get there?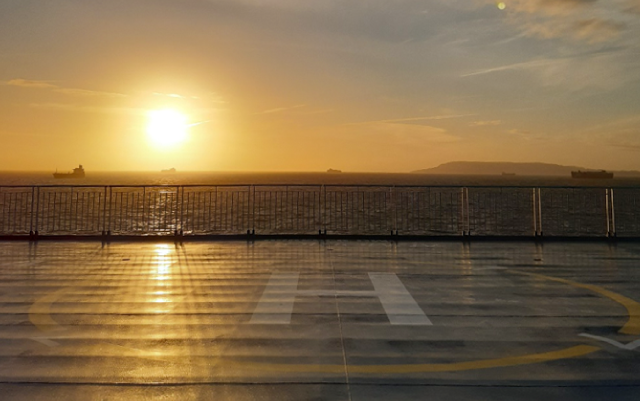 Like many of our groups, we took a 6-hour ferry to France, on which we enjoyed the loveliest sunset. We were also invited to visit our partner Brittany Ferries ship's deck to learn all about steering a ferry across the Channel!
In an effort to lower our carbon footprint further, Hugues drove us in his electric car. We quietly whizzed through the verdant, peaceful French countryside to reach the accommodation centres, spotting many quaint little villages with the typical church spire sticking up towards the sky!
Tell us about the accommodation centres!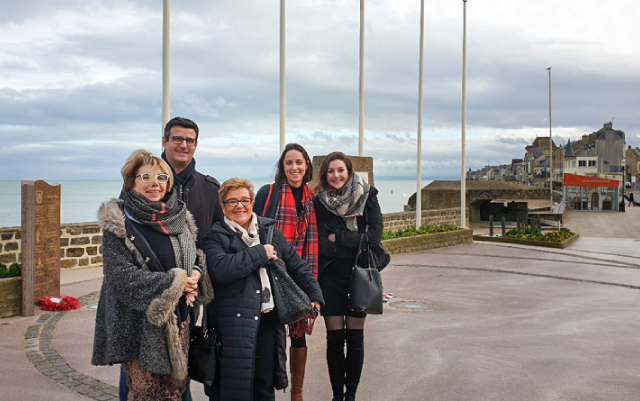 We visited the UNCMT accommodation centres at Ver-sur-Mer, Bernières-sur-Mer and Lion-sur-Mer.
These three centres are situated within walking distance of the beach in charming little villages – which means they're ideally located for school groups.
Students are accommodated in multi-bedded rooms with en-suite facilities. All the rooms are freshly decorated and kept to excellent health and safety standards – we were very impressed!
There are also catering facilities on site and a resident director who is available around the clock to make the groups' stay enjoyable and safe.
The centres also offer rooms and classrooms for the groups to enjoy evening activities. Each centre also has great enclosed outdoor areas for the students to let off some steam in the evenings by playing boules, basketball, football or table tennis. Plus, there are TV rooms and even disco rooms with disco balls and spotlights!
Now you've visited Normandy, why do you think it's a good destination for a school trip?
Set in rural France, surrounded by nature, history and architecture, Normandy is the perfect place to immerse school groups in the French culture and language, learn about history and enjoy the seaside!
It felt safe and quiet but also offered a range of activities to inspire students.
Interested in arranging a trip to Normandy?