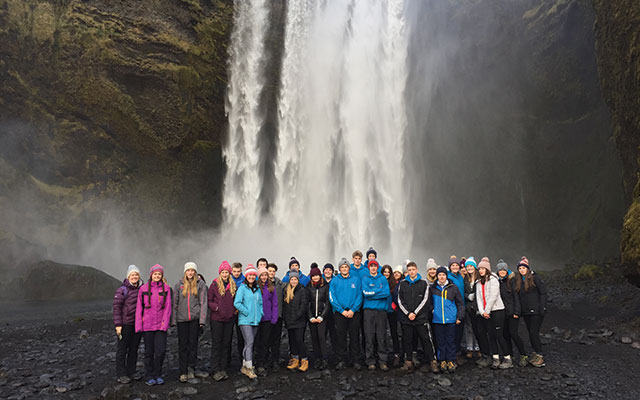 School name: Dyffryn Taf
Destination: Iceland
Iceland is fantastic, definitely recommended. Everything I had hoped for and more!


What was your main objective for this trip?

We were studying tectonic landscapes and hazards and so I thought a school trip to Iceland would bring this alive for the students.
Why did you choose this destination?

Iceland, or the 'land of ice and fire' is the perfect location with its spectacular scenery and range of landscapes. You can stand at the junction of two tectonic plates and see many volcanoes. The spectacular waterfalls are magnificent, and you can marvel at the exploding geysers or the more tranquil mud pools. There really is something for everyone there.
Can you briefly describe the visits and activities you participated in during this trip?

We took the Golden Circle Tour which included some of Iceland's most famous sights, including Gullfoss waterfall, Thingvellir National Park and Geysir. And we also did the South Shore Adventure, which took in the black volcanic beaches of Reynisfjara, among other things.
We took a dip in the Blue Lagoon, discovered how Icelanders have harnessed geothermal energy at the greenhouse village of Hellisheidi Geothermal Plant, and learnt about the 2010 eruption of Eyafjallajökull at the visitor centre there.
We also took a ferry and bus tour to the Westman Islands, walked to the snout of the Solheimajökull glacier, and enjoyed a guided tour of Reykjavik.
Why did you choose these visits and activities?

We chose these particular activities because we wanted the students to experience a diverse range of activities, landscapes and hazards. We also wanted to achieve a real 'wow' factor to ensure that this trip would be remembered by the students as a once-in-a-lifetime experience.
What will be your lasting memories of this trip?

Everything. Nothing disappointed and the students loved every part of it!
Why did you choose Halsbury for this trip?
We've been working with Halsbury for several years now. And they handle other school trips for us as well. We value their customer service and competitive prices. The loyalty scheme is also an attraction. Staff are knowledgeable, helpful and always at hand when required. Accommodation centres and catering are always of a good standard and we haven't been disappointed yet.
How would you describe the experience of working with Halsbury on this trip?
Stress free!
Would you recommend Halsbury to your friends and colleagues?
Absolutely, for all the reasons mentioned above.
Please don't hesitate to contact us for further information or to request your tailor-made quote.