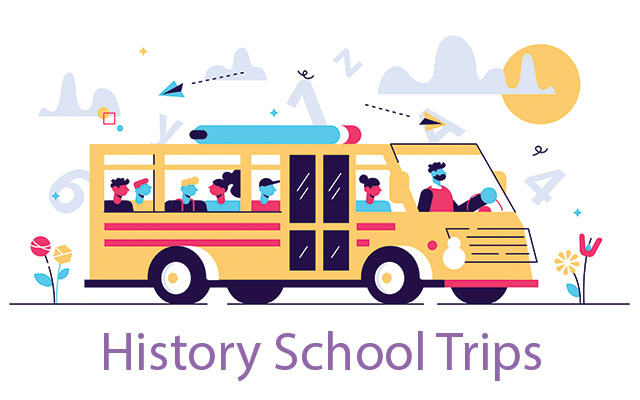 After nearly 18 months of disruption, there is hope that this new academic year will be a return to normal. And so, of course, thoughts are turning to how we can help students to make up for vital time missed in school.
While many were able to learn remotely, not all students had access to adequate equipment or internet connections. Not all had the stability at home that would allow them to study.
And even for those that had everything they did need, nothing can replace the time spent in class with you, their teacher, and their classmates.
A history school trip can be a fantastic way to bring the period and topics they're studying to life, help them to better understand the context in which historical events happened and provide them with tangible memories that will help them to recall important information in exams.
'Learning it from a book is not as memorable as coming to the actual place and seeing it for yourself, so I feel like it will definitely help our exams going forward.'
Student, Ryde Academy, Berlin and Krakow
And let's not forget the reason that we study history – to learn from past mistakes and to better understand the world around us.
By visiting the place where historical events happened, they and the people affected by them are brought to life for students. And they'll also have the opportunity to discover how those historical events still affect society, culture and people now.
So, take, for example, a history school trip to Berlin and Krakow. Berlin offers a great variety of visits which offer school groups the opportunity to learn more about the Nazis, how they rose to power and what life was like under the regime.
Your students will learn that the rise of the Nazis was down to a number of complex issues. The historical and social contexts in which Hitler came to power will become clearer to them just by being in Berlin and visiting some of the fantastic museums here, such as the Story of Berlin, which charts the city's entire history.
And in Krakow, they'll visit Auschwitz. This is certainly a visit they will never forget and, for many, it could be a very difficult experience. But a visit here humanises the victims of the Holocaust while at the same time demonstrating the scale of the systematic murder perpetrated by the Nazis across occupied Europe.
In the WW1 battlefields, students will gain a fuller, deeper understanding of the experience of soldiers, by visiting the trenches in which they fought and seeing firsthand accounts of the dreadful conditions they had to live in. At the memorials and cemeteries, they will begin to understand the scale of destruction caused by the war.
Whether your group is studying WW1, WW2, the Nazis and the Holocaust, the Cold War, Elizabethan England or the History of Warfare, our experienced Tour Advisers know our destinations and visits extremely well and will work with you to create a tailor-made itinerary to meet your specific learning objectives.
So, shall we start planning your history school trip?
Yes, send me a tailor-made quote
And remember, you'll be covered by our Covid Guarantee!
Secure your trip for a reduced deposit and postpone or cancel for free† if Covid restrictions mean you can't travel.
†Terms and conditions apply.