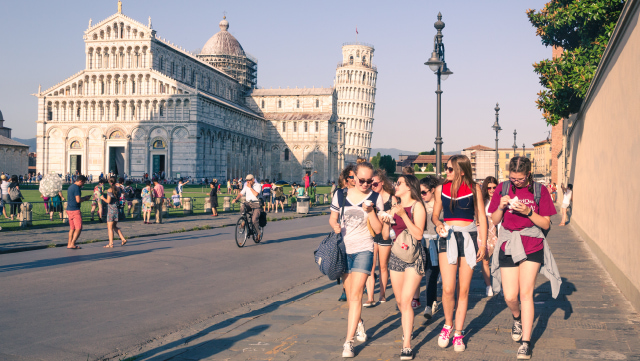 We have now moved to step 2 of the government's roadmap out of lockdown and we are expecting to hear very soon about when school trips abroad can restart.
We know from speaking to so many of you that you're keen to travel again as soon as you're able and that many of you expect to run school trips in 2022.
Here are just 5 reasons why you should start the planning for those trips now:
No financial or contractual commitments
The DfE has confirmed that teachers are now able to plan UK school trips but have advised that they should not yet enter any new financial or contractual commitments and, we expect, the advice may be similar when school trips abroad are given the green light.
The good news is that our Covid Guarantee means you can secure your trip without entering any new financial or contractual commitments as advised by the DfE – if the advice changes, you'll be able to cancel or postpone for free†!
†Terms and conditions apply, please see our Covid Guarantee for further information.
Give students (and parents!) something to look forward to
We don't need to tell you that it's been an awful year for absolutely everybody. One of the worst things is that we haven't been able to plan or look forward to anything for so long.
But planning your trip now means that your students and accompanying staff will all, finally, have something to look forward to. And parents can look forward to a bit of a break from their children!
Plus, as your school trip will be covered by our Guarantee, you can all relax in the knowledge that if the advice changes and you aren't able to go on your trip as expected, you'll either be able to postpone or get a full refund, so no-one will be left out of pocket.
Beat the rush
Once school trips abroad are given the green light, we're expecting to be inundated with enquiries, because we've had so much communication from group leaders telling us they want to travel again as soon as they can.
We are expecting availability to be extremely limited in popular destinations for popular dates, as groups look to make up for missed time. And we are also already seeing some indication that group sizes may also be larger than normal, to meet demand.
So, get your enquiry in now so that you have the pick of destination, accommodation, transport and activities.
Give yourself enough time to organise your school trip
School trips abroad can typically take 3-4 months from first enquiry to provisional booking. And there is plenty to organise from that point onwards too.
Starting to plan your 2022 school trip now will give you a bit more breathing room, which we can guarantee you'll be grateful for!
Even if you're not ready to book or launch your school trip just yet, contact us now for your tailor-made quote and for any further information you might need, to help get you started.
Beat the competition from other trips within your school!
One of the most common reasons we're given for teachers having to cancel trips is that they couldn't get enough students to sign up to the trip, as they'd already committed to another trip offered by the school.
By getting in early, you'll be able to launch your trip earlier than other departments, giving you a captive audience when it comes to your students.
Worried about the reaction to launching a trip right now? We've had lots of feedback from teachers saying that they were surprised at the level of enthusiasm of both students and their parents in terms of signing up for trips.
In fact, one of our ski groups has had to book 2 additional coaches, as their trip was so popular. And another has had to book another separate trip to cater for demand!
Ready to start planning?
Yes, send me a tailor-made quote