Buongiorno!
I'm Simone, one of Halsbury Music's experienced Itinerary Coordinators.
I'm also Italian, and often use my knowledge of my home country to help Group Leaders plan their unforgettable music tours to Italy. I recently visited Sorrento, one of the most beautiful destinations in Italy, to see what it could offer for school music groups. Here's what I found…
On arrival in Sorrento, the tower clock very handily reminded me that it was lunchtime so, on my way to the pedestrianised shopping area, I stopped by a local restaurant to sample one of the most famous dishes in the world – Margherita pizza!
Topped with deliciously creamy buffalo mozzarella, the pizza was in the shape of a star, which is something you only really see in this area of Italy!
After lunch, I visited two of our most popular options for concerts: the majestic Sorrento Cathedral and the charming Villa Fiorentino.
Both venues are located in the vibrant city centre and are perfect for orchestras, bands and choirs too!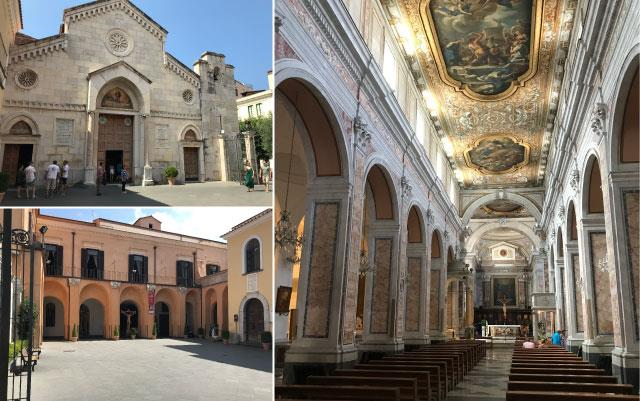 Sorrento Cathedral can host sacred and classical concerts within the cathedral itself, and there's also the possibility to perform outdoors in the cloisters, where more modern and pop repertoires are equally welcome.
Villa Fiorentino is famous hosting concert series and for the Summer Jazz Festival, the area's most famous musical event which is hugely popular among locals and tourists alike.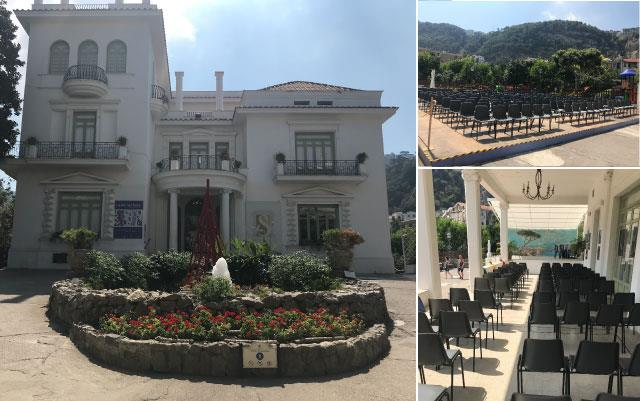 Sorrento also offers some exciting cultural activities for when you're not performing - we can organise a mozzarella demonstration and tasting; hands-on pizza making experience; ice cream tasting or you could just enjoy the local markets with beautiful views across the Gulf of Sorrento!
I checked in to the 3* Hotel La Ripetta, one of the most popular hotels among our groups. The hotel is perfectly located on the Gulf of Sorrento, just 2 miles from the city centre.
The hotel director welcomed me and showed me around the bright hotel reception with its spacious dining hall, outdoor terrace and a room where our music groups can rehearse.
Day 2 – Amalfi & Ravello
After a good night's sleep, the best way to start the day is with a delicious continental breakfast of cookies, local cakes, fresh coffee, juice, bread and jams with beautiful views overlooking the gulf!
The morning was to be spent exploring Amalfi, once the seat of a powerful maritime republic. Not to be missed here are the iconic Byzantine cathedral and the republic's arsenal.
Our music groups can participate in Mass at the cathedral, and those with sacred and classical repertoires can also perform a recital.
Before heading to Ravello, I stopped for lunch at a lovely restaurant in Amalfi offering local and international cuisine overlooking the port - delicious food and impressive views from the terrace on a beautiful sunny day!
After lunch, I headed to Ravello, which is just a 30-minute drive from Amalfi.
I enjoyed a brief wander around the narrow streets of Ravello's old town, with its many artisanal shops before checking out another concert venue.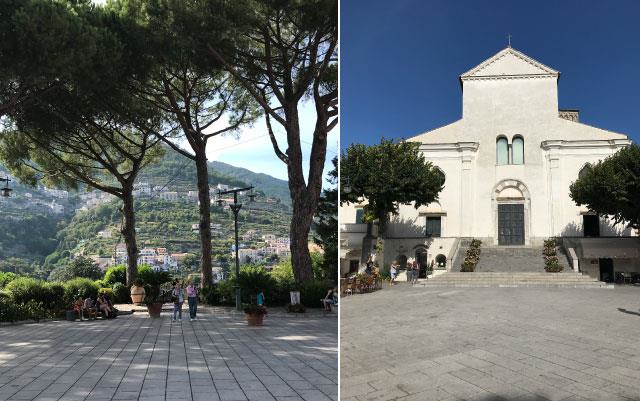 The Duomo di Ravello, the town's cathedral, is in the centre of town opposite the main square, Piazza Vescovado, and makes for an impressive setting for a concert.
Day 3 - Salerno
On last day of my trip, I headed towards Salerno, my last destination!
To add some extra magic, I decided to take a public ferry to enjoy the Amalfi coast from the sea. I would highly recommend this as an inexpensive way for groups to really enjoy a full experience of the area.
The views are unique and the whole 45-minute journey is an incredible photo opportunity!
Salerno is a vibrant and culturally important city southeast of Naples – this is the official start of the Amalfi coast!
Salerno has a long and fascinating history of Greek settlements and Etruscan traders.
It's also famous for the centuries-old Arechi Castle and the Museo Medievale del Castello, which exhibits medieval ceramics and coins.
My last visit, as I walked through the pedestrian shopping centre, was Salerno Cathedral, which was built on the ruins of a Roman temple.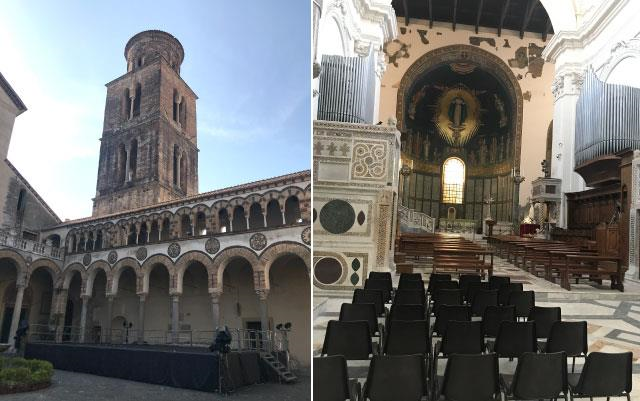 The local priest is an enthusiastic musician and is an active member of the local choir! For the last 22 years the cathedral has also hosted a music festival as part of its concert agenda.
Here, groups are welcome to participate in Mass, or to perform sacred and classical recitals. The priest also welcomes groups to perform in the cloister for a more modern and pop repertoire.
Final thoughts...
As an Italian, Sorrento and the Amalfi coast are by far one of my favourite destinations. Here you can combine the history of archaeological sites like Pompeii and Herculaneum with beautiful geographical landscapes, including the looming volcano, Mt. Vesuvius!
This is one destination that really exceeded all my expectations!
For further information and advice on school music tours to Sorrento, or to request your tailor-made quote, please don't hesitate to contact us.