This month's star venue actually isn't a venue, as such. In fact, it's a festival, but not just any festival – the Mercantia Festival in Tuscany!
Now in its 31st year, the week-long Mercantia Festival is one of the most famous street art festivals in Italy. Each summer, the town of Certaldo welcomes over 3,000 visitors daily, over the course of the week. It's a joyful carnival of colours, music and performing arts.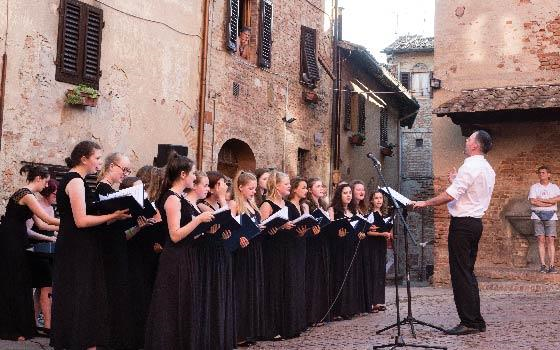 Last year, Ackworth School's choir took part in the festivities. So, to see what it's like to perform at the festival, why not watch the video or read their trip diary?
The festival is very inclusive and so welcomes bands, choirs and orchestras with all kinds of repertoires. We would recommend a pop/secular repertoire as the best fit for the festival, but really it is up to you!
Your young musicians will truly relish the opportunity to perform at the heart of this exciting festival, which celebrates the very best of performing arts.
And you really could not ask for a more atmospheric setting. Certaldo is a medieval, hilltop town – exactly the type of town one associates with Tuscany. As well as hosting this popular festival, Certaldo is also famous as the home of Giovanni Boccaccio, one of the Tre Corone of Italian literature.
Certaldo is made up of two parts - the lower part which is known as Certaldo Basso, and the upper, medieval part of the town, known as Certaldo Alto. The festival takes place in Certaldo Alto, the older part of the town.
If you're interested in performing at the Mercantia Festival on a school music tour to Tuscany, please don't hesitate to contact us for further information, or to request a tailor-made quote.